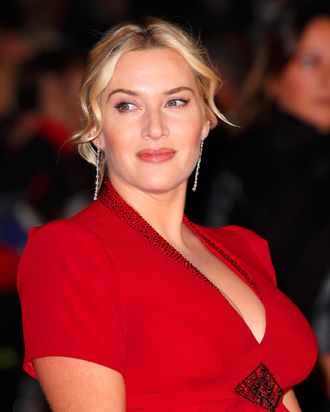 Photo: Max Mumby/Indigo/Getty Images
Kate Winslet and her husband Ned Rocknroll have named their baby boy child Bear. The couple elected not to give the child a suggested portmanteau (Winsleroll!), but did elect to give him the last name Winslet.
Bear is Rocknroll's first child and Kate Winslet's third child. Bear's older siblings are Mia, 13, and Joe, 10. Thus, it seems fair to assume that it was the father who suggested a moniker of the nontraditional, ursine variety.
It was a relatively mild year for celebrity baby names and Bear gets in right before the cut-off. At least for the first year or so, he'll fit right in, as it's a fairly standard nickname for a child — a little baby bear. The name is not actually the most bonkers selection from either the animal kingdom (imagine a Squid Rocknroll) or things associated with babies (Onesie, for example). Welcome, Bear child, we wish you all the bear hugs and such.