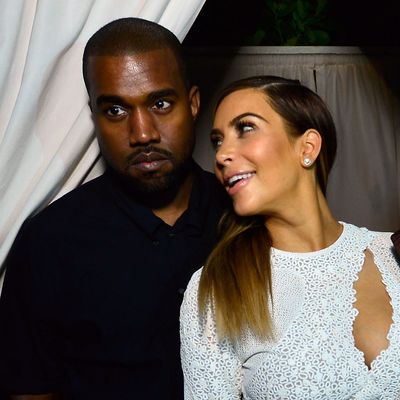 Photo: Eugene Gologursky/Getty Images
Kanye and Kim are still planning their dream wedding, but they have all but destroyed the public's hope for a Kimye Gilded Fantasy Fairy Tale Wedding. Yesterday, reports broke of a Kimye Wedding at the Palace of Versailles; today, it's like we've all been left at the altar. No North in a powdered wig. No towers of croissants. Kimye's kamp says the rumors are "absolutely false;" the couple has yet to set a date or choose a location, according to E! News.
Inside sources assure us that "It's going to be huge. It's going to be the size of the capital … there won't be anything small about it." But what other venue could be so perfect for pop-culture's royal couple? Unless outer space is available to rent (see: Lady Gaga), I for one will not watch the inevitable E! special, Kim Kardashian's Third Fairy Tale: A Kanye West Nuptial Production.