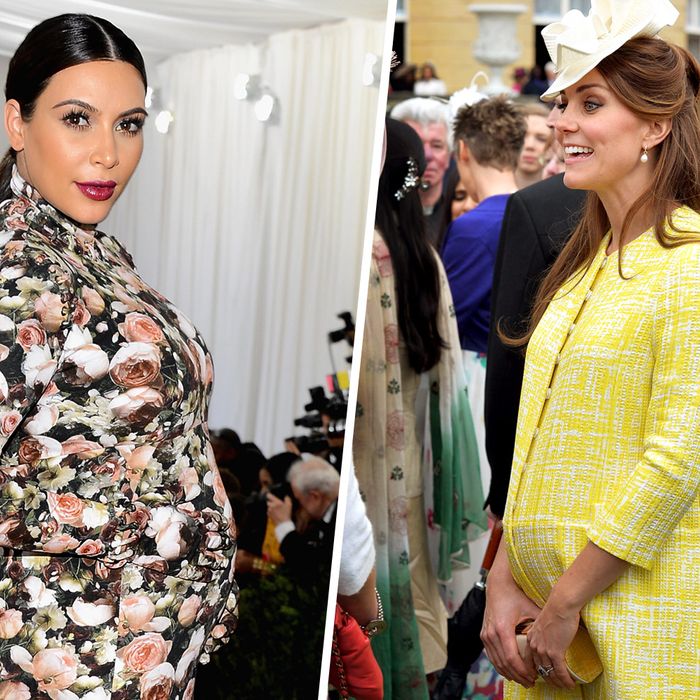 Photo: Larry Busacca/Getty Images; John Stillwell - WPA Pool/Getty Images
For the past several years, Google Zeitgeist has tracked America's queries, recording who sparked the most searches and drove the most traffic. These are the winds that flutter our national attention span, the conductors of the Internet orchestra, the ringleaders of our circus.
Google also tracks other stuff, like medical queries and cocktails and technology, but we aren't here for that. We are here to analyze the open-new-tab-immediately gossip-gossip-gossip inquiries: upcoming babies and impending breakups.
Beginning where we all began (womb zone), everyone knew that Google would show a raging battle for the title of 2013's most intriguing gestation. After following through with their pregnancy pact, Kate Middleton and Kim Kardashian knew only one of their bulges could win Most Popular Pregnancy. Would it be the son of an actual prince, or the daughter of a self-declared god? Google's final tally:
1. Kim Kardashian

2. Kate Middleton

3. Megan Fox

4. Shakira

5. Jessica Simpson

6. Halle Berry

7. Tamar Braxton

8. Olivia Wilde

9. Kerry Washington

10. Jennifer Love Hewitt
All right, kids and newly hatched celebrities, enough of that joyful news, and time for some tears: the most popular breakups of 2013. A melancholy drumroll, please:
1. Miley Cyrus and Liam Hemsworth

2. Taylor Swift and Harry Styles

3. Kris Jenner and Bruce Jenner

4. Nina Dobrev and Ian Somerhalder

5. Miranda Kerr and Orlando Bloom

6. Jennifer Lawrence and Nicholas Hoult

7. Ryan Seacrest and Julianne Hough

8. Katy Perry and John Mayer

9. Marc Jacobs and Harry Louis

10. Michael Douglas and Catherine Zeta Jones
There you have it. All the people that did things that people do, but managed to capture the interest of people who know how to type. Very much looking forward to whatever babies and breakups you all bring to 2014.