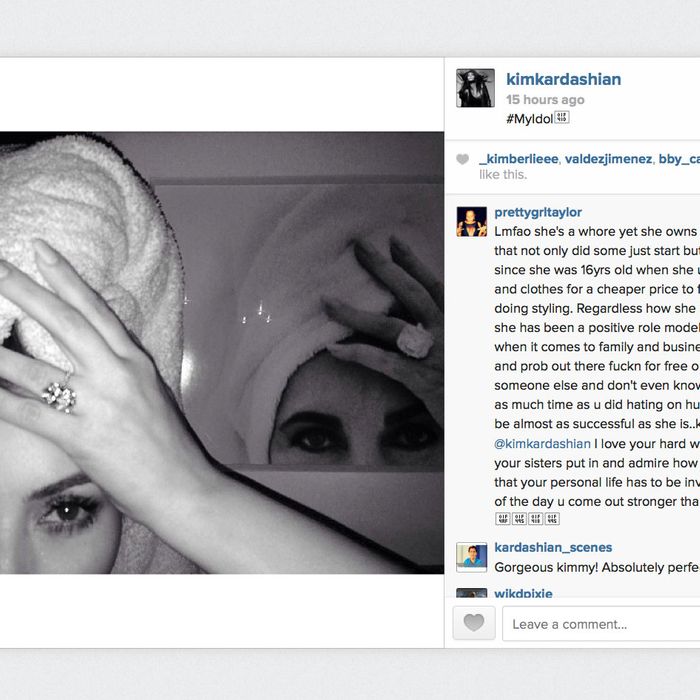 Photo: kimkardashian/Instagram
Last night, Kim Kardashian revealed more of herself on Instagram than we've ever seen. Not physically — there wasn't another belfie. Instead, Kardashian unveiled a key to her inner psyche, her id, with a shot simply titled: "My idol."  The picture showed Kardashian with her hair wrapped in a towel, left hand weighed by a gigantic diamond, mimicking the pose of another very famous woman of the times: Elizabeth Taylor. Some of her Instagram followers were like, "Who is that?" but those who have been on Kardashian Watch understood. Suddenly, it all made sense. Kardashian's fame trajectory this whole time has been modeled on the (formerly) most famous woman in the world.
A breakdown:
-Taylor rose to fame as a film star; Kardashian also made her name through films.
-Taylor demanded a reported $1 million for her role in Cleopatra; Kardashian demanded (and made) a reported $8 million from starring in one film.
-Taylor was called the "most beautiful woman in the world" for her unique eyes; Kardashian was called "the most beautiful woman of all time" by her fiancé, Kanye West.
-Taylor was a famous cat lady; Kardashian also once had a cat, of whom she took diligent care.
-Taylor was married four times by the time she was 33. Kardashian will be married for the third time next year. She is currently 33.
-Taylor was known for being super-subtle, just like Kim.
-They both married (or will marry) their great loves, in quiet celebration.