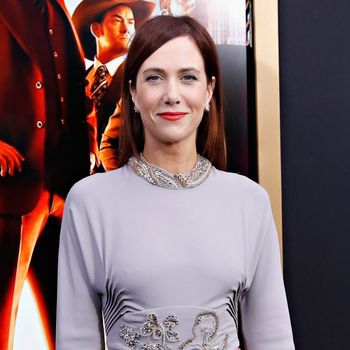 Photo: Cindy Ord/Getty Images
In high school fable Grease there's a Sandy who gets the guy and a Sandy who doesn't, and Kristen Wiig is going to tell you about the difference between them. In an interview with Elle, she confesses to an "unhealthy obsession with Olivia Newton-John" and explains the valuable lesson she took from O J-N's big makeover:
I just wanted to be her. I just wanted to be Olivia Newton-John, and live her life, and sing to myself in the mirror. "Xanadu," "Two of a Kind" … all of it. I've seen her in concert like three times. [Laughs] She's stunning, and her voice is incredible.

When I first watched 'Grease,' I was at an age where I thought, this is what high school will be like. This is what you do if you want to get the guy …

You got to dress like a slut. And show up at the school fair in hot, electric black pants and Candie's. And a perm. So girls, if you're reading this, and you want a guy, get ready for that end-of-school fair! Smoke. Do it. Let's just talk about Olivia Newton-John all night! [Laughs]
Grab a cigarette, figure out how to put it out with a sexy leg swivel, pour yourself into some black Lycra, and make booty-centric poses. You too can be just like Kristen Wiig being just like Olivia Newton-John.