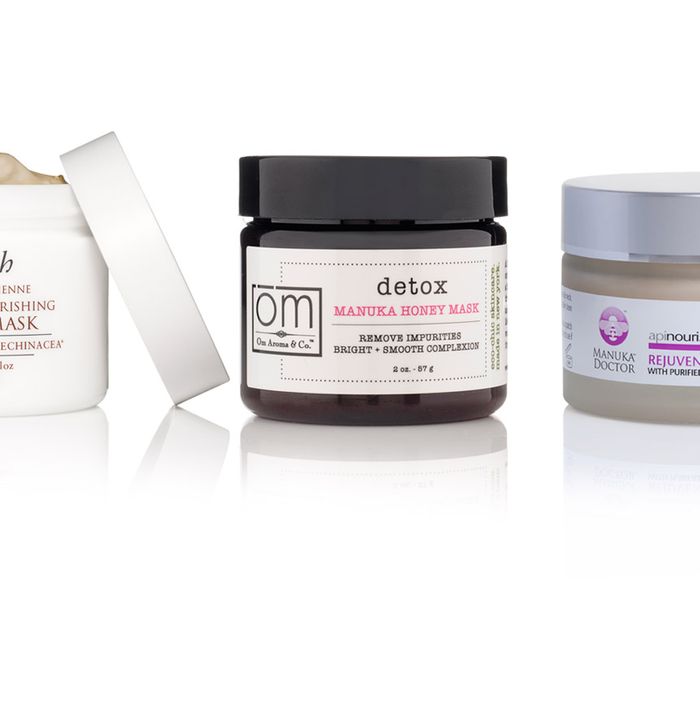 It's widely known that sugar is Public Enemy No. 2 for skin (sun being No. 1): When ingested, it causes inflammation in the body, which can decrease your skin's natural collagen level. So is there a real case to be made for spreading honey all over your face? Beauty companies seem to think so, with several new goopy (not of the Gwyneth variety) masks on the market.
Honey has high amounts of antibacterial properties, which can reduce inflammation and create a softening effect on the skin. Manuka honey, a special type of honey collected from manuka trees in New Zealand, has the highest concentration of these properties, and is widely popularized on Reddit message boards as a DIY remedy. Despite being automatically skeptical of most DIY home remedies (the last one I tried was toothpaste to treat a zit, which only made it smell minty fresh), I tried three honey and manuka honey masks: Fresh's Creme Ancienne Honey Mask, Om's Manuka Honey Mask, and Manuka Doctor's Apinourish Rejuvenating Face Mask.
All three of the masks are sticky, which was slightly off-putting and very messy for my bathroom. They all need honey combs.  Om's Manuka Honey Mask resembled raw honey the most, with a viscous, gooey texture. Fresh's mask was a blend of a cream and paste texture, and Manuka Doctor's was a straight-up paste.
While pleasant, all three masks were virtually indistinguishable. After a succession of cold days, my skin felt more moisturized when I used each at night, although without the "glowy" look I've come to expect from most skincare masks. The honey masks had more of a protective, rather than hydrating, effect. My skin looked and felt softer in texture, but without any obvious, visible effects.
The winner among the three was Om's, which has a full-bodied honey-lavender scent. Its instructions suggest that you spread the mask over your face while letting it soak into your skin with a hot towel. Although not for the claustrophobic, the aromatherapy effect was nicely therapeutic. I'd recommend honey masks for people with sensitive skin who can't stand serum-based masks, but going forward, I'll stick to putting the honey in my tea rather than on my face.