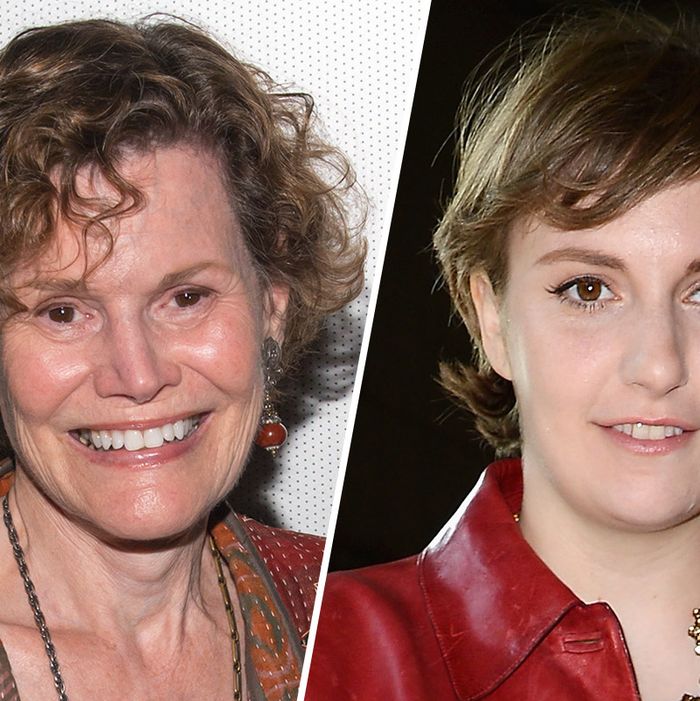 Photo: Michael Stewart/WireImage; Pascal Le Segretain/Getty Images
Lena Dunham and Judy Blume have a mutual fan club. Dunham has cited Blume's Summer Sisters as an inspiration for Girls, while Blume has spoke about the thrills of watching Girls. So The Believer has set them up in conversation: The magazine will publish an 80-page book, a sort of YA version of n+1's female literary chat, No Regrets.
Both Blume and Dunham want their work to speak raw truths about the lives of young women, but at the same time, they also heap in a good dose of absurd delights. So of course Lena and Judy just get along famously.
In an excerpt online now, Blume tells Dunham a very Dunham-type story about inventing books about which to write book reports in sixth grade:
JB: I just wasn't interested in the kinds of books I thought I was meant to be reading. I wasn't that interested in stories about prairie girls or horse stories. I never read a horse book in my life, but I thought that's what my friends were reading and that's what I should be reading—Dobbin does this and Dobbin does that.

LD: That was the name of your series?

JB: It was about a horse named Dobbin, yes. I made up the characters and the theme and I stood up in front of the class and I gave my report.
Dobbin the Horse Does This, Dobbin the Horse Does That. I'd read it.