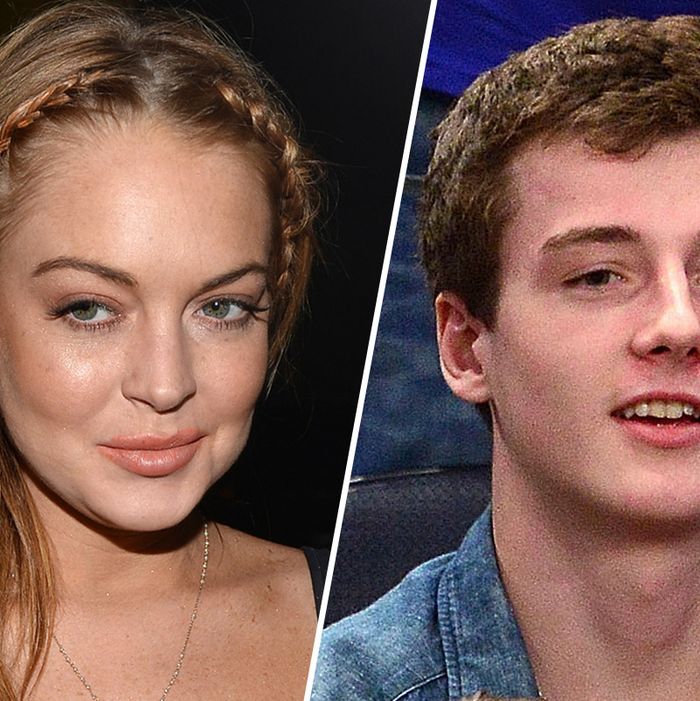 Photo: Michael Buckner/Getty Images; James Devaney/WireImage
"Page Six" reports that Lindsay Lohan and Michael Neeson, the 18-year-old son of Liam Neeson, were reportedly acting all cozy around Thanksgiving. LiLo and Neeson were seen at Finale in New York — and even sneaked off to the ladies' bathroom together at one point.
According to the source:
Lindsay seems to have this thing for younger men at the moment. They were together at a house party of one of Lindsay's stylist friends before Thanksgiving, and were together at Finale on Friday. Lindsay was seen leading him into the women's bathroom, hand-in-hand. The odd thing was that Dean was with them all night, even though Lindsay had been seeing him, too.
Neeson is certainly a fresh-faced dude to hang about. Perhaps Lohan's purported sobriety keeps her popular with the chaste under-21 set.  She briefly dated 19-year-old model Liam Dean, and was linked to an 18-year-old dread-head Ralph Lauren model, Morgan O'Connor. And now, the youthful son of late actress Natasha Richardson and Neeson, the grandson of Vanessa Redgrave, has caught Lilo's attention.
Lohan's rep says they are friends but they're not dating. Sneaking off to club bathrooms sounds like a casual, no-big-deal, let's-not-worry-about-labels thing to me as well.