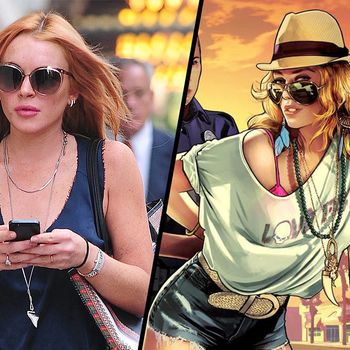 Photo: Alo Ceballos/FilmMagic, Rockstar Games
TMZ reports that Lohan is drawing up a lawsuit against Rockstar Games for using her likeness in the wildly popular Grant Theft Auto V video game. The purportedly Lohan-esque character — an animated, leggy blonde starlet — clutches a cell phone and wears a bikini on the game's cover, and has previously been compared to models Kate Upton and Shelby Welinder. But Lindsay Lohan knows a Lindsay Lohan when she sees one.
There are elements throughout the video game that parody celebrity and fame — however, it seems unlikely that Lohan can claim ownership over all those concepts. The strongest argument for her case would probably involve a story line featuring sex at a Chateau Marmont–like hotel: Lohan frequents the Chateau Marmont and once lived there. But so did plenty of other actresses.
In its report, TMZ includes a clip of the game in which a blonde actress announces herself as Lacey Jonas. She recruits a motorcycle driver to help her to escape the paparazzi, and justifies the ensuing high-speed chase by complaining she's fat and not wearing makeup, so it would be an inopportune time for a pap-shot. As a tire literally hits the side of a wall, she asks if her hair looks good. This is the character that Lohan saw and thought, Yes, yes! That's me! That's certainly how I act and speak. What an uncanny rendering of my soul.