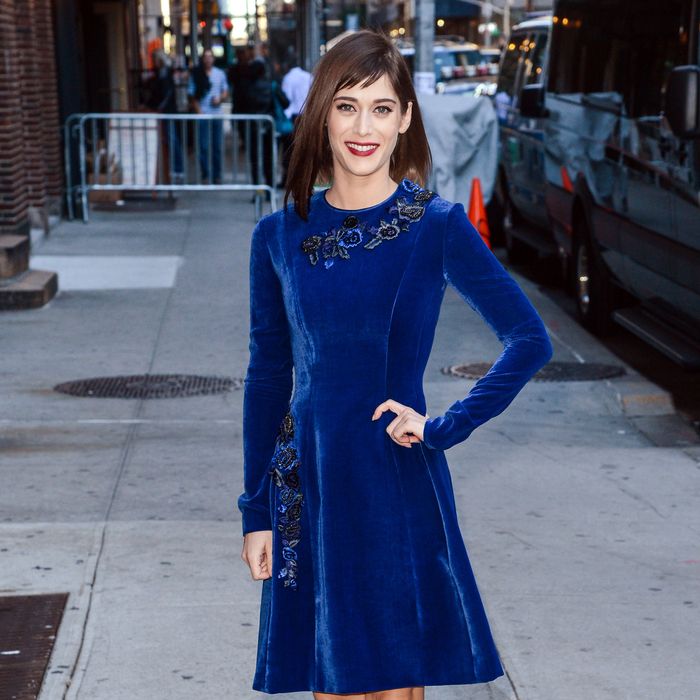 Photo: Ray Tamarra/Getty Images
In an interview on Chelsea Lately last night, actress Lizzy Caplan admitted to boozing heavily on-set during her True Blood days: "It was like 7 in the morning and I was chugging vodka completely naked while a makeup artist I had just met was on her knees in front of me, sponging my ass," she told Chelsea Handler.
Since most of Caplan's True Blood stint required her to strip down to nothing and grind up against Ryan Kwanten's abs, the actress understandably needed a stiff drink — or several — to get through the morning's scenes. And then, you know, because she was hammered after she shot her steamy sex scene (and because she's just Candid Caplan!), she wandered around the set saying, "You got a boner! You do! You got one!" to the innocent crew members she had just met the day before.
It sounds like an unused scene from Showgirls or an anecdote from Lindsay Lohan's future unauthorized biography — or, at the very least, cause for serious concern, but this is Lizzy Caplan! She's the newest poster child of a grounded, awesome, sassy, raunchy, best-friend actress. When she slams vodka at work at 7 a.m., it's hilarious. One woman's train-wreck antics are just Lizzy Caplan's charming anecdotes.