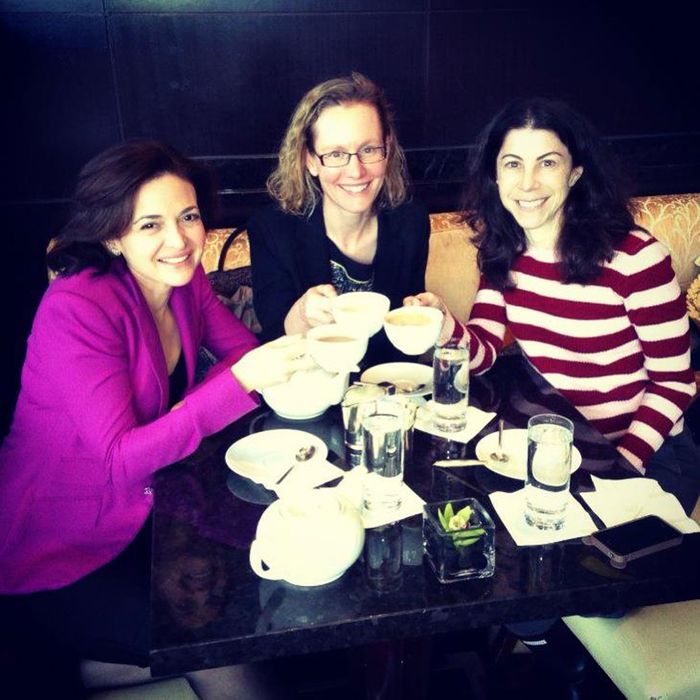 "In Hollywood, you kind of trick yourself into feeling like you have impact," says Nell Scovell, squinting intensely at the tabletop. Sitting in a small café in Cambridge, Massachusetts — she's in town from L.A. for a wedding — she jabs a slice of pumpkin pie with her fork. "I've written NCIS episodes that 18 million people have watched," she says, "and probably fell asleep in the third act and woke up in the fourth act to discover who the killer is." But there's one recent project that has felt different. "The vocabulary of my cynical world," she says, "doesn't allow me to explain the success of Lean In."
Scovell has spent two and a half decades in Hollywood, working as a television writer, producer, and director. She is perhaps best known as the creator and executive producer of Sabrina, the Teenage Witch. She was one of the first women to pen an episode of The Simpsons. Recently, she has written jokes for the President, though she's under strict orders not to talk about it. But one of the accomplishments she prizes most feels like a strange addendum to her CV: She was Sheryl Sandberg's co-writer on Lean In.
At first glance, Scovell could hardly be more different from the Facebook COO. She does not radiate Sandberg's upbeat poise or fill the room with effortless charisma. She is a careful talker, at times haltingly self-aware, pausing to chew over words before she speaks. Her small face is framed with wiry curls. At age 53, wandering through Cambridge in jeans and black nail polish, she could almost be mistaken for an undergrad heading to class. When she knows a joke is good, she delivers it as if waiting for the cymbal clash. ("Never touches the sun," she says of her girlish looks, sweeping a hand across her face.) But on the subject of Sandberg, her voice empties of irony. "I've never worked on anything with this kind of a deep meaning," she says.
Of course, Lean In is Sandberg's message, and Sandberg's story. But Scovell has been quietly, inextricably involved from the beginning. She spent a year working on the book with Sandberg. She even wrote what is perhaps the book's best line: "It is not a feminist manifesto — okay, it is sort of a feminist manifesto." And over the past few months, she has become an increasingly visible ambassador for the cause, posting her own story on leanin.org and giving speeches that dutifully quote the book. In some ways, she's an ideal poster child for its principles: Her husband of twenty years, the architect Colin Summers, stayed at home to raise their kids. But her role in Lean In has left some friends in the comedy world scratching their heads. "I still don't understand how she got the job," said Mike Reiss, a TV writer who has worked with Scovell. ("My wife read it," he added. "And I will get around to it.") She's also not terribly at ease in the spotlight. "I don't think a public persona is who Nell is," said Chris Sanagustin, a former colleague and current NBC Universal executive. "She's probably not a natural showman."
That afternoon in Cambridge, Scovell was preparing to speak at Pepperdine for a conference about women in Hollywood. The talk was weeks away, but she was nervous. "I think I'm funnier in my writing than in person," she said. Her original plan, she explained, was simple: "I'll go into this male-oriented business and I'll do my job and I'll do it well," and then "more women will come into the industry." But by her account, that didn't happen. So now, after decades off camera, she's pushing herself into the public eye as a role model — she is, if you will, leaning in.
**
Scovell grew up outside of Boston, the middle of five children. And from early on, she often found herself the lone woman in male milieus. In high school, she was the manager of the boys' track team. At Harvard, she spent her time reporting and editing sports stories for the Crimson. Larry Grafstein, an investment banker who was a sports editor with Scovell, described a Crimson institution called the "Open Book," in which staffers would paste copies of articles and try to one-up each other with witty comments. Scovell was known for her sharp zingers, signed NS. But there was always an undercurrent of striving beneath her shtick. "Nell did not take herself seriously," Grafstein said, "except in the competition of not being serious."
By her senior year, she was writing for the sports desk of the Boston Globe, where she recalls cowering at her desk as the male reporters screamed profanities into the phone. After graduation, she moved to New York and was the first staff writer hired by Spy magazine in 1986. "She was a little fireball of energy," said Spy co-founder Kurt Andersen. "She had a real light." After a year she corralled the other staff writers and demanded raises on their joint behalf. But she was still wary of making herself into a public example. For one assignment, Andersen asked her if she would outfit herself with fake gigantic breasts for a few days as an experiment. "I'm not comfortable writing about myself," she told him, as he recalls.
Eventually, Tina Brown recruited her to work at Vanity Fair, contributing quirky visual features about money and culture. And then one day she ran into an old Spy editor. "I don't mean this as an insult," she told Scovell, "but I think you could write for television." She liked the idea — her girlhood idols had been TV stars like Carol Burnett and Mary Tyler Moore. So she wrote a spec script for The Garry Shandling Show, which they bought, and after serving as story editor for the final season of Newhart, she got her dream job: writing for Letterman.
But for Scovell, Letterman offered a rude awakening. She was the only woman on the writing staff and found the atmosphere openly sexist. It wasn't until 2009, though, when the news broke about sexual harassment at Late Night, that she decided to go public with her story. Her friend Susanne Daniels, now president of programming at MTV, recalls hearing Scovell worry over what speaking out would do to her career. Eventually, Scovell published an essay in Vanity Fair calling Letterman's show a "hostile work environment" for women.
The general response was energetically appreciative. One blogger declared, "Nell Scovell is My New Hero." The Times published an investigation into the lack of female late-night writers, spinning off from her piece. But there was also a swift and catty backlash: One Letterman writer anonymously told a reporter that Scovell had left the show not because of sexism, but because her jokes never made it on the air.  "Now it's four years later," Scovell said, "and what's sad is that [the article] didn't have a greater impact." In any event, she said, with the excited conviction of a new believer, that essay "was a step on the path that led me to Sheryl."
**
Scovell and Sandberg like to say that they met through Facebook. That is, an old college friend who was a communications VP at Facebook sent Scovell a message in 2011 asking her to do some writing for Zuckerberg. And then one day, the friend e-mailed: "Have you seen Sheryl Sandberg's TED Talk?"
"Seen it?" Scovell replied. "I've memorized it." So she edited one of Sandberg's speeches, sitting motionless on the green suede couch in her study for eight hours. It was the first talk in which Sandberg used the phrase "Lean In."
Over the next few months, Sandberg and Scovell grew close. And when Sandberg got her book deal, she immediately tapped Scovell to help. "I'm a pretty straightforward here is my point, here is my story, here is the data writer," Sandberg said. Scovell, she explained, contributed the kinds of "anecdotes and phrases and jokes that help a topic like this, which is a difficult topic — I mean, this is feminism."
They passed chapters back and forth over e-mail, sometimes squeezing in sessions on the drive between the Facebook offices and Sandberg's home. After Sandberg wrote one factual passage about her career trajectory, Scovell tacked on an analogy about marathon running to enliven the argument and lighten the mood. "Male marathoners are routinely cheered on, 'Lookin' strong! On your way!'" she wrote. But the female runners hear a different message: "'You know, you don't have to do this!" Sentence by sentence, Scovell and Sandberg talked through the language and the tone. "I'm very proud," Scovell said, "that the word cohorts doesn't appear anywhere in the book."
Feminism has always been a tricky message to package, and the stereotype of the humorless feminist has existed at least since the suffragettes. Over the years, some self-effacing levity has proved useful to the cause — from Gloria Steinem quips like "A woman without a man is like a fish without a bicycle" to Hillary Clinton including "pantsuit enthusiast" in her Twitter bio. It's not always easy to embed jokes in a feminist message: Sandberg's earlier speeches — like the TED Talk — tended to be explanatory, literal-minded boardroom presentations. But her public speaking has loosened up as her profile has risen. And for that, she mostly credits Scovell. "Humor is so important," Sandberg said. "If anything, I wish [Lean In] were funnier."
As a comedy writer, Scovell has always had her own style: wry, nerdy, slightly off-kilter. But part of the challenge has been finding her own voice for talking about feminism — apart from Sandberg, apart from the scrubbed corporate dogma of "Don't leave before you leave" and "What would you do if you weren't afraid?" According to one longtime friend, Scovell gave his wife a copy of the book and signed it: "Lean the fuck in." But as a fledgling public figure, her two professional selves have been harder to reconcile.
The Los Angeles Times once called Scovell a "feminist comedy writer." When she read those words, she confessed, she had "a mild heart attack." After all, she never set out to push an agenda in her writing. She recalls posting one blog item that juxtaposed stills of Bette Davis from Whatever Happened to Baby Jane with photos of Madonna making similarly contorted faces; it prompted angry e-mails accusing her of hypocrisy for advocating feminism while mocking a successful woman.
For Scovell, it's been strange to return to Hollywood, where she is currently working on a film project. She misses the sense of writing about something that "isn't pretend," that "touches people in ways that you don't touch people" when your subjects are "shrunk to three inches on your screen." She has struggled with the pivot from writing for humans back to writing for characters. "I like to think I wrote Sabrina very strong," she said. "You know young women are watching and that's important, but that's under the surface. On the main level, you are just entertaining people and making them laugh, or letting them guess who the killer is."
And so last month, she stood in front of some 250 people in an auditorium at Pepperdine in Malibu, wearing a slim gray dress, her curls marshaled into glossy waves. She began, a bit stiffly, citing Sandberg talking points: "Sheryl points out the shortage of women in high positions," "She also urges women to make their partner a real partner." But then, riffing on her own experience in Hollywood, she seemed to relax. "It's like they botoxed the entire women's movement," she declared, with a creeping smile. "We are frozen and can no longer even look surprised." The audience erupted. Scovell beamed through their applause. When the speech was over, the room rose to its feet. She was sounding, at last, like herself.