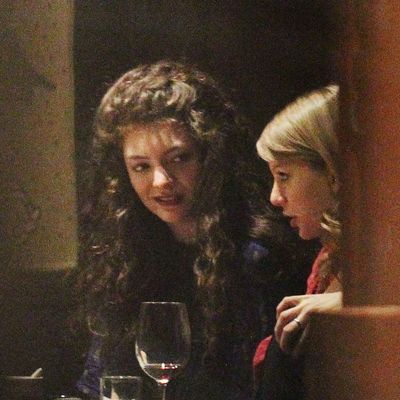 Taylor Swift and Lorde were photographed friend-canoodling on a dinner date at Hibachi Japanese Grill in Melbourne last night, just a month after they shared lunch at Shake Shack. Logic says: These two are now bosom buddies! An outspoken, feminist-leaning, atypical pop star and the perpetual friend to the underdog pop anti-diva, having dinner together at Hibachi Japanese Grill. Sharing a laugh, talking out their opposing views on feminism, exchanging tips on how to stay grounded in the face of fame — maybe cupcakes and boys, too.
Swift might prefer her boyfriends bad, but she likes her female friends good — like, angelic good. Why do good girls love good girls? Well, maybe for Swift, it's about the photo ops. She's been known to publicly befriend Emma Stone, invite Selena Gomez over for baking sessions at her Nashville condo, and stroll in photo-ready matching outfits with her "little sister," Hailee Steinfeld.
These warm-girlfriend paparazzi moments add a certain degree of crafted relatability to the Brand of Swift: gal pal to the gal pals you'd want to be friends with. Kate Middleton, you're next — but this probably means Rihanna's sleepover invitation will be permanently lost in the mail, since that sleepover would include strippers and no cookies.