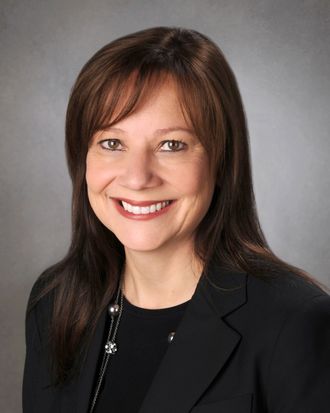 Photo: Steve Fecht/General Motors
Yesterday, General Motors announced that Mary T. Barra will take over as CEO, making her the first woman to lead a major auto company. Reporting on the announcement, Forbes's Dale Buss declared that "one of the thickest glass ceilings in the world finally has been shattered." 
Barra's predecessor, Daniel F. Akerson, took pains to stress that "Mary was picked for her talent, not her gender." Still, her symbolic status is important. Writing in the Washington Post, Richard Reed called her "a great figurehead for GM — one that says the company is willing to do things that other automakers aren't."
A rundown on the most powerful woman in the automobile industry.
She put herself through engineering school. Barra grew up in the Detroit suburbs, where her father worked as a die maker for Pontiac for 39 years. She got her first job at GM when she was 18 in order to help finance her degree in electrical engineering. The company later gave her a fellowship to pursue an M.B.A. at Stanford.
She's thrived post-recession. After the $50 billion bailout in 2009, Barra moved from engineering to serve as the head of human resources, and began building a reputation for no-nonsense efficiency. In 2011, Akerson promoted her to senior vice president for global product development. "Mary Barra has probably the hardest job in the global auto industry right now," Adam Jonas, an analyst for Morgan Stanley told Businessweek this June. "If she can really knock the cover off the ball, she deserves to be CEO of GM."
She's not fond of corporate B.S. Her catch-phrase is "no-kidding results," and she's made it her mission to dismantle dysfunctional corporate bureaucracy. "On a scale of one to ten, we're at a three," Barra told Fortune last year, speaking of the work that would be necessary for GM to catch up to its competitors. Though when it comes to her experience as a woman in the dudely world of automobile development, she's less declarative. "I'm not blind to the fact that sometimes it's probably helped," she told Businessweek, adding: "Sometimes it's probably hurt."
She decided her employees could wear jeans to work. To the chagrin of stodgier managers, Barra dismantled the company dress code as head of HR. To her detractors, she reportedly retorted: "So you're telling me I can trust you to give you a company car and to have you responsible for tens of millions of dollars, but I can't trust you to dress appropriately?"
She has a penchant for Camaros. A spokesperson for GM told ABC News that between her and her husband, who also works for the auto company, "they've probably owned every generation of Camaro." Currently, Barra drives a black Cadillac CTS.