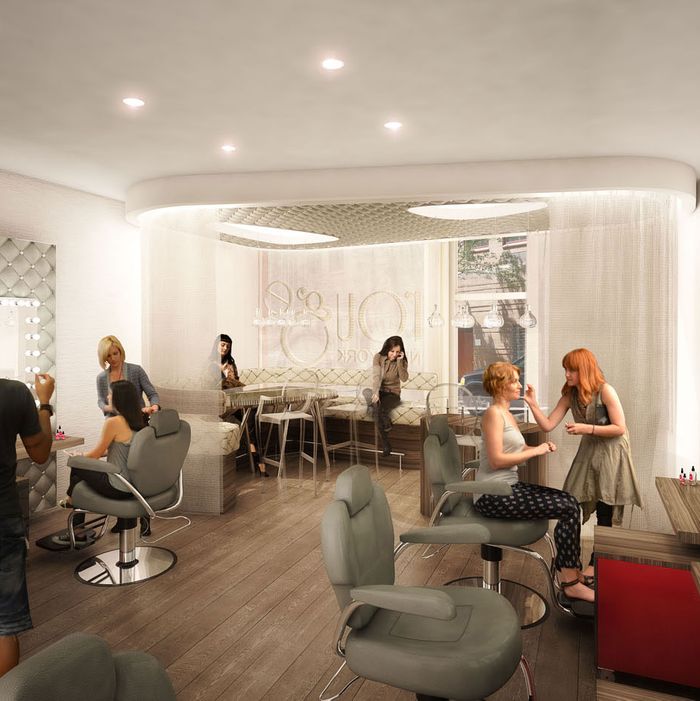 Unless you are a celebrity or someone who appears on red carpets all the time, you rarely employ the services of a professional makeup artist. Even when you're getting married, good teams for hair and makeup can be hard to come by. You could go to a department-store beauty counter, but typically, you'll leave the experience cash-poor and looking like the child hooker version of yourself. The new beauty bar Rouge New York offers a simple solution to that, by creating the makeup equivalent of the blowout bar.
Stephanie March, Law and Order: SVU actress (and wife to chef Bobby Flay) and Rebecca Perkins, the makeup department head for the show, have been friends for over ten years. ("We're so close, I could go up to her, breathe into her face, and ask her if my breath smells bad," March told me. "She would be honest!") March was lucky enough to be able to use Perkins's skills for special occasions, but thought, "What is my sister supposed to do if she wants to get her makeup done?"
March and Perkins partnered up to create a small salon offering makeup application (and some waxing). Guests can take a seat in one of six Hollywood-inspired vanity chairs (which fully recline) and choose from a menu of looks such as the "You … Only Better," "Bold Choice" (choosing one particular feature to accent), and the "Total Polish" (a more glamorous nighttime option). Smoky anchorwoman eyes are not on the menu. Neither are hard sells. Although the salon has its own self-branded makeup (with brushes, skin-care, lip glosses, and concealers), it also uses products from other brands such as Face Stockholm, Yaby, and Julie Hewett, which are personal favorite of Perkins.
Thanks to her work on Law and Order, Perkins is skilled at doing anything in makeup. "She can create Argentinian gang tattoos out of nothing!" March told me. She can also cover them up so your grandma isn't horrified (an option on the menu called Tattoo Cover), and in my case, make you regret that you didn't see her before you had your headshot taken. Had I seen her before my sitting, I would have had makeup befitting high-flash photography, including professionally sculpted (but believable) cheekbones and a lash line that looked more Audrey Hepburn than Kim Kardashian. "I'm trying to bring the individual lashes back!" she said as she meticulously padded out my lash line. Heading back to the office, my co-workers noticed that I looked nice, but I also didn't look too "done." The term you, but better is the most overused phrase in beauty copy, but is entirely appropriate in this case.
Rouge New York opens December 11 and is located at 130 Thompson Street (212-388-1717). The menu of looks starts at $50.