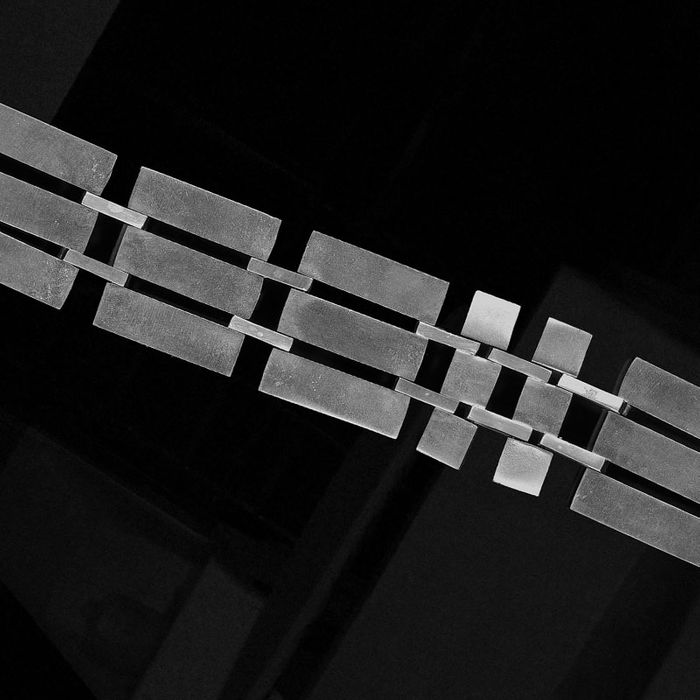 The birth of SAMMA, the minimalist, raw jewelry line, can be traced back to a simple rope necklace with small brass triangles that RISD-educated sculpture artist Hanna Sandin created on a whim for her circle of friends. "It was kind of out of the blue," she told the Cut. "I bought a bag of these triangles and then I was just sort of selling it at my friend's store, Mc & Co. What I really liked is how people immediately gravitated and responded to it. It was nice to have something tactile that anyone feels like they can have an opinion about." When Sandin's first round of triangle necklaces sold out at Mc & Co., she heeded the advice of a friend and began to dabble in jewelry casting. In 2009, she created her first official line for SAMMA.
SAMMA, which means same in Swedish, offers bracelets, necklaces, cuffs, rings, and necklaces with an air of simplicity, roughness, and depth. Sandin works with heavier, non-precious metals — such as brass, bronze, and copper — and uses lulling repetitions of basic, pared-down shapes, scallops, or lines to create imperfect, aesthetically pleasing pieces of jewelry with a handmade feel. While she's currently designing a line of fine jewelry to put into production next year, all of Sandin's pieces return to the triangle necklace, which, in effect, created her brand. In the Q&A below, the Cut spoke to Sandin about her experience juggling sculpture and jewelry design, her love for base metals, and her efforts to keep up with the design cycle. Click through the slideshow for a look at some of her pieces. Her pieces are currently stocked at shops like Creatures of Comfort, Jumelle, La Garconne, and Maryam Nassir Zadeh.
You work predominantly with sculpture. Did you ever consider jewelry a form of mini-sculpture or something along those lines?
I wouldn't call them little sculptures, but I think there is a certain hand quality that I appreciate in objects. I get to indulge my hand with my jewelry, and it's a way for me to indulge myself. [Laughs.] I think that's really missing in the retail world. The retail world is kind of cold, and I really like seeing objects that look like they were designed and made by someone. Not necessarily handmade, but with a certain touch to them. I look at a lot of costume jewelry, and what sets or elements they're made up of, and I take them apart and refine the shapes, and I like to indulge in how things are made. When I look at objects, that's kind of my primary point of entry: Who made this? How was this made? Even if I am working with something found, that's part of why I am interested in it to begin with. I like the narrative behind objects, and I think with the sculptures, I'm always looking at the language of objects that have no strong narrative or maker or clearly recognizable origin. I really look for a warmth and a tactility that objects can have.
Would you say that there's a connection between your sculpture background and your jewelry-design process at all? Or are they completely different thought processes to you?
They are connected insofar as they come from similar impulses. A strong connection is perhaps how the jewelry explores forms as standards. I often look at mass-produced jewelry pieces, at how they are made. I often strip down the forms so they are free of embellishments and focus on how to build pieces back up from these sets of units and see how far I can push that. Or how to combine the different sets. I also really like looking at ancient pieces of adornment for inspiration — the first forms of jewelry and its use of primary forms.
How have you been juggling SAMMA and your own art?
I've been doing it, but not well. I realized that I wanted to give art a little more attention this year, and I still feel like I haven't been able to. But I'm going to do a collection for next season, and then I'm going to go on a residency in New Mexico with some friends. I won't have any orders for spring/summer coming up, but then [I can do something] for fall/winter. That'll give me a really long time [to just work on art].
A lot of your pieces are made from un-precious metals. What attracted you to them?
I love common materials and I love, with base metals, that they do tarnish. Copper turns a bluish color when it oxidizes. I know people like plating, but I like the raw materials and honesty, and just letting them be what they are. Base metals are appropriate for these oversize, big-scale pieces.

Do you make everything by hand?
I make the first parts, and then I go to the jewelry district and I have molds made. I do need help with certain parts of fabricating. I've never studied jewelry [and] I'm not interested in making every single piece, but I do the design and making the parts and figuring things out. It ends up being that I have a lot of weird solutions that people in the jewelry district look at and think, "Okay! I don't know where you get these ideas, but okay!" [Laughs.] But that said, I do try to simplify.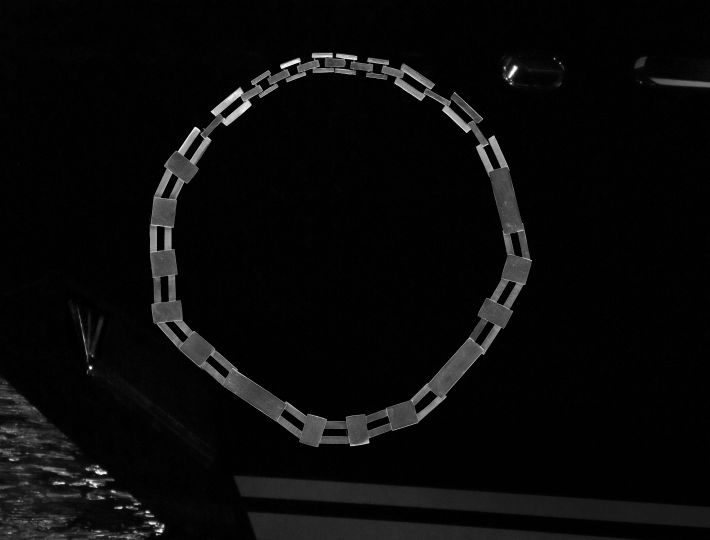 CONSTRUCT XIV in brass, white brass, $690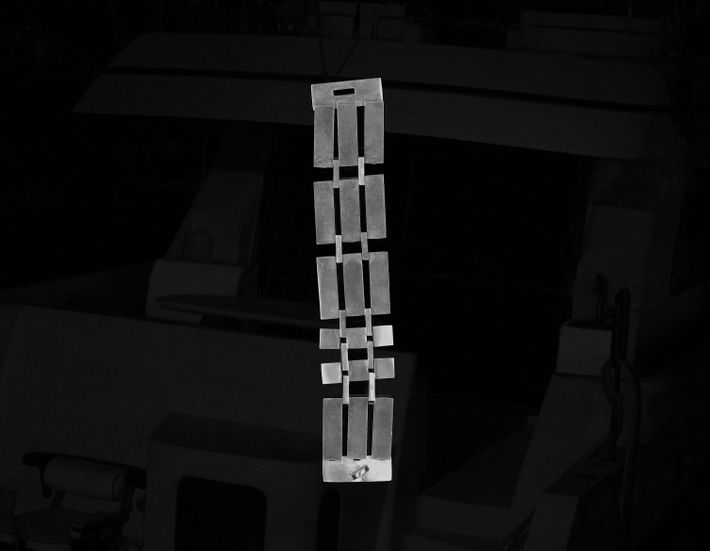 CONSTRUCT II bracelet in brass, white brass, $529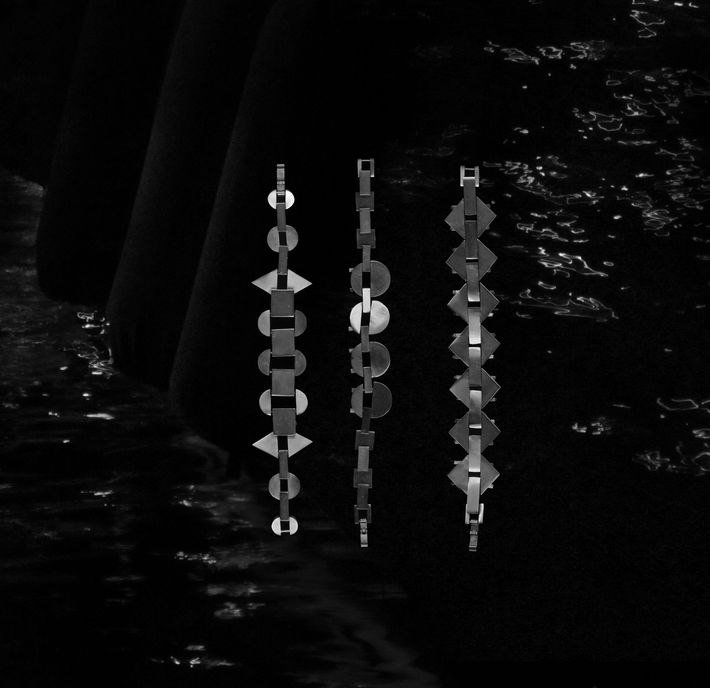 CONSTRUCT IV, XVI, XVI bracelets in brass, white brass; $403, $345, $403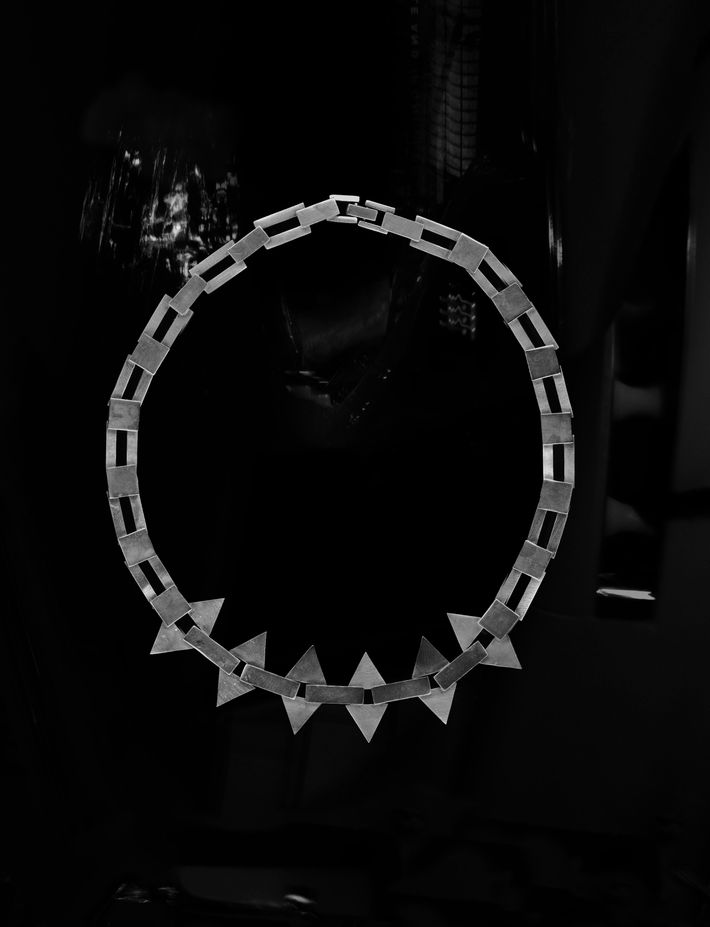 CONSTRUCT I necklace in brass, white brass, $700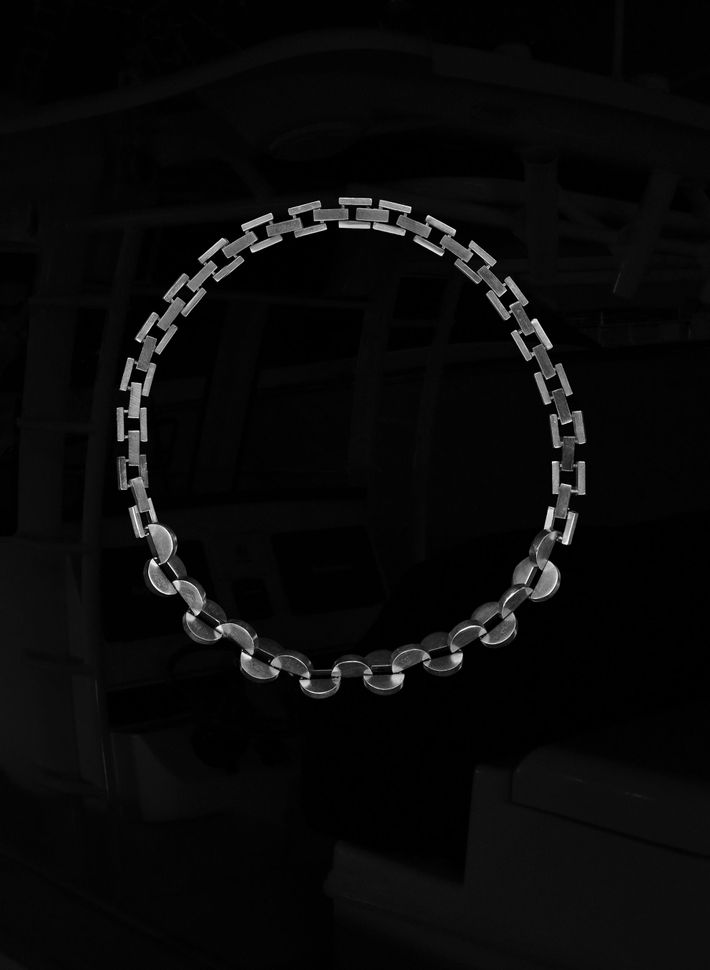 CONSTRUCT XXIV necklace in brass, white brass, $680