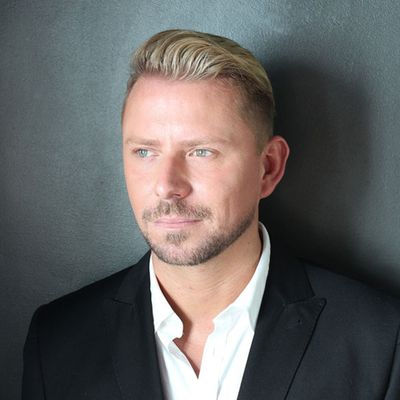 Photo: Courtesy of Wayne Goss
Wayne Goss is not your typical YouTube star. He has amassed over a million subscribers on his beauty channel, and has the consumer influence to match: His first collection of brushes on Beautylish sold out in five minutes. But he stands out among other beauty vloggers for several reasons — the first of which is that he's a guy. A guy who can quickly and confidently demonstrate Kardashian contouring tricks on his own face. He eschews the cutesy, neighborly tone used by most beauty vloggers in favor of a methodical, straight-to-the-point delivery.
Goss spoke to the Cut about how being a guy is advantageous in the YouTube beauty world, how he got started, and why he doesn't wear makeup himself.
How did you get started in the business?
It was something I've been interested in since I was a young boy. I always liked looking at magazines and seeing the pretty faces. When I was 20, I started suffering from acne. That experience reminded me of my love for makeup and how I could use it to fix my skin.
I am self-taught. Fifteen years ago, I picked up some books by Way Bandy and Kevyn Aucoin and read them to practice. I went to London and studied makeup artistry. Then, I discovered YouTube. I found that there were so many kinds of people on it, but there didn't seem to be any teaching and instructions on how to make the process simpler. I feel like my videos fill a gap in the market. I keep them short and clearly explain what I'm doing. My point of view is that you don't have to have a degree in art to be able to explain it.
How do you think you became successful on YouTube?
It was so gradual. You don't really notice it creeping up on you. I remember hitting 20,000 subscribers and thinking, Oh my god, that's a lot of people. And then it started to increase very rapidly after my first year, especially after I did videos on concealer and blusher. But I don't really know. It's still a mystery to me. I imagine it is a combination of people doing searches in Google, seeing a video, and liking it. The social media aspect certainly helps.
Do you think that being a man in the field is advantageous?

Absolutely. I'm pretty much the only male in my age group doing it. I think people appreciate that I'm not going to be talking for an hour about something I could do in a few minutes. I'm very matter-of-fact. I'm not very handsy nor flamboyant. Even if I'm demonstrating something on myself, it's not about making myself a pretty princess. It's about the technique and explaining it very succinctly. In real life, I don't even wear any makeup. It's not my cup of tea.
Since you demonstrate a lot of the tutorials on yourself, I think people probably do think you wear makeup every day.
I think it does surprise people. I love putting eyeshadow on people. But I'm six feet tall. I've got a beard. It doesn't interest me. I don't want to be pretty. I'm just a bit scruffy and unkempt, and that's just sort of my style.
If you don't wear makeup yourself, why do you demonstrate the tutorials on yourself?  
Well, lately, I have been using models in my video. But sometimes, when I get home, the last thing I want to do is see anyone else. Also, apart from the fact that I'm male, my eye shape is very realistic. Models have good skin, very large eyes, so that makes everything very easy to do. If I apply eye shadow, you get a more realistic impression of what it looks like on my eye, not someone who is genetically blessed.
How did the brush project with Beautylish come together?
I contacted Beautylish because I read their online content a lot. I mentioned that I was pursuing a brush line and they liked the idea, which was to create a really good-quality brush using Japanese craftsmanship techniques. The difference in quality would be understood the minute you opened it.
I knew about the bristles and furls and what to look for. It was difficult finding companies that could deal with all the requests I had. It had to be hair that couldn't be cut. Nothing could be done by machine. There's a bluntness to machine-cut hair that cuts your face at harsh angles. Especially as we get older, that can be harsher on the skin. With the right makeup brush, makeup goes exactly where you want it. For women over 40, it's a great benefit to have a brush that's not moving the eyelids around.
This project was self-funded, so I was very pleasantly surprised when I learned they sold out in the first five minutes. My philosophy has never changed. I still believe you should buy the best makeup you [can] afford, and if you can only afford one thing, buy one brush. Most people are applying makeup with their fingers. But a brush is an instrument you can use it for several purposes, and blend at the same time. For someone like me, not born with this artistic flair, good brushes enabled me to do makeup well. I really don't have this innate talent, I struggled all the way and managed to find the right sort of brushes. It was a very selfish project, in a way.
 What do you think of the story that came out a few weeks ago that said YouTube stars like Michelle Phan were making millions?
I obviously know of Michelle, although I've never spoken to her. I would say that's an exaggeration in terms of figures. But again, I don't know anything about her. I started about a year and half after her. At that time, the partner programs for YouTube weren't available.
The bulk of us who started doing YouTube did it for the love of doing it. Those of us that did it for the right reasons are still around for the right reasons. There has been an influx of people thinking, I shoud make a fortune here. 95 percent of them don't make it any way. And those that do certainly aren't making six-figure salaries. It would be nice to start with a thousand. The bulk of people earning good wages from it now were around when there was no money.
The partner programs now, I believe, make it more difficult. Everyone wants a slice of the pie. I think this pie is really wonderful and big. You hear these glamourized stories, but the reality is very different. We still have full-time jobs. We work hard. And YouTube is a full-time job, because you have all these components, like filming and editing. I imagine that 90 percent of us do that ourselves without the help of anyone else.
I'm still a makeup artist. I still do jobs. I always will do that. I'm in a wonderful position of doing a job that I love. It's a great thing. YouTube is the icing on it. It's lovely to be able to connect with people on it I would never otherwise be able to meet.
This interview has been condensed and edited.