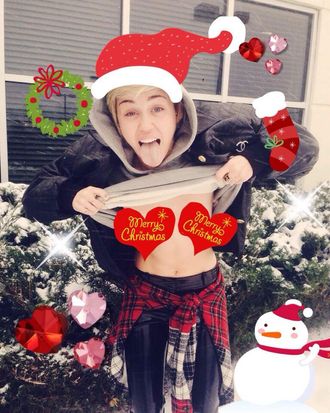 Photo: MileyCyrus/Twitter.com
Miley Cyrus was hanging out in the snow by some shrubbery, feeling very seasonal. But her skin was not feeling so merry and bright — her skin was feeling left out. Cyrus was all bundled in a Chanel leather jacket and a hoodie and a flannel, and her skin had never been buried beneath so many layers. Miley, it called, You haven't kept me from the elements for so long ever before. Let me go!! And Miley did. She also recruited a photographer to capture the moment she bared her boobies to the camera.
But then, she was like, You know, I'm not sure everyone will necessarily understand how celebratory and seasonal my boobs are feeling. So she found some clip-art pasties. In addition to these nipple covers (red hearts that read "Merry Christmas"), she added a melty snowman friend, a stocking, a Santa hat, a festive wreath, and sparkle gem hearts for good measure.
She tweeted at her favorite political nipple cause:
Merry Christmas
A Merry Christmas to you, and to all a good night.