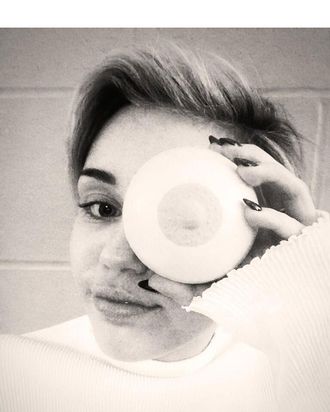 Photo: Miley Cyrus / Twitter
Miley Cyrus has posted a picture on her Twitter with which she shouts out Free the Nipple, along with a bunch of hearts. It depicts her holding a disc-like rubber nipple to her eye like a telescope, for it is through the nipple that Miley sees the floating, mystical Milky Way and the twinkling stars of other universes.
Free the Nipple is a movement that aims to "protest the backwards censorship laws in the U.S." that glorify violence but repress nudity, in hopes to "decriminalize the female body." Miley's frequent forays into semi-nudity, of course, align her with Free the Nipple's general vibe. And last month, the self-anointed world's biggest feminist, told the BBC about the unfair double standard regarding nipples:
Guys get to show their titties on the beach, why can't we. I don't understand the double standard of life.
A fair point. Nipple as monocles for every girl and every boy across this fair land!