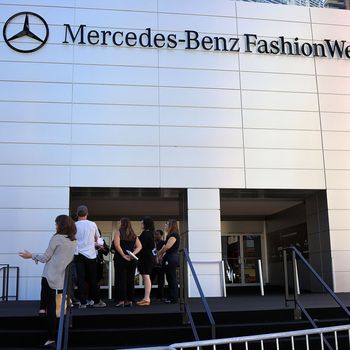 Photo: Spencer Platt/Getty Images
Earlier this month, IMG, the agency that reigns over Mercedes-Benz Fashion Week, suggested several changes to fix all of Fashion Week's problems, including "a redesign of the on-site venues, the improvements include a redesigned lobby, increased space for designers to hold hospitality events, a more carefully curated press and industry list, and redesigned flow and front-of-the-house protocols," according to WWD. But now that IMG has been acquired by William Morris Endeavor and Silver Lake Partners, solving MBFW's real issues — like the fact that it's become an over-bloated spectacle that's scaring major designers away from the tents — is now Ari Emanuel's problem.
Emanuel, who is WME's co-CEO along with Patrick Whitesell, will need to make decisions about how to make Fashion Week more efficient and streamlined for editors and buyers. Apparently, Emanuel had ideas for Fashion Week a decade ago, and was interested in purchasing MBFW's precursor, 7th on Sixth, before it was sold to IMG.
And that's just in the immediate future. The questions of Fashion Week's management — and eventual ownership — are still up in the air. Fashion week will move to the $50-million-dollar Culture Shed at Hudson Yards in 2017, but it's unclear who will run it in the long-term, and where it will go when Lincoln Center's contract is up in 2015.
It seems that whatever happens, though, the CFDA will have a larger role. "The business model for the Culture Shed is undetermined at the moment," CFDA CEO Steven Kolb told WWD. "The CFDA, Diane Von Furstenberg, and myself are all very involved in what Fashion Week will look like at the Culture Shed. What it turns out to be will be driven by the CFDA."
Let's see what magic Emanuel and WME will work come February with the project he's been thinking about for a decade. Will it be enough to secure WME's role in 2017 — or will someone else be running the shows?