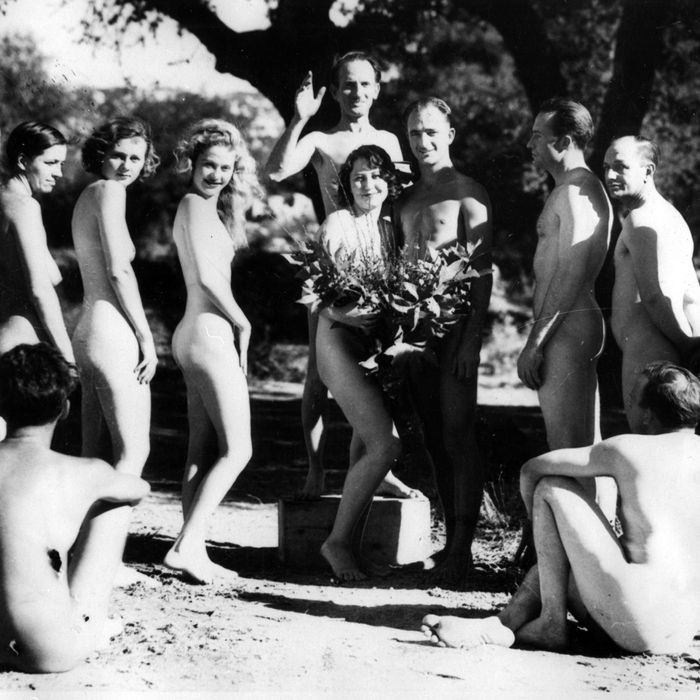 Photo: Anonym/IMAGNO/Austrian Archives/Getty Images
When Gypsy Taub (the rebellious, outspoken hippie) weds Jaymz Smith (the worthy paramour with a creatively spelled name), they will stand before each other as honest and vulnerable as if they were naked. Probably because they are two nudist activists staging a clothes-free wedding next Thursday, as SF Weekly reports. "I want to be naked in front of City Hall in defiance of the nudity ban," said the blushing bride. "People get naked to make love — how is that wrong? How is a couple in their most vulnerable state a crime?"
Taub is a well-known participant in the Body Freedom movement and a frequent attendee of nude-ins in the city. "If you live in the Castro, you've definitely seen her boobs," says reporter David-Elijah Nahmod of her activism.
Their marriage is both a union of souls and a political statement, asserting the right for all humans to storm the streets, genitals flying free in the breeze. "I believe this is a First Amendment issue," Gypsy says of her wedding. The two know their special day might end in arrest and offend parents, but they hope people see this as a chance to teach their children about sex and sexuality.
After the ceremony, the wedding party plans to embark on a bare-butted protest march through the city streets, a sort of metaphor for the journey they are about to embark on as a couple. Wedding guests are invited to join the happy couple at a reception at San Francisco's Center for Sex and Culture, or to come to the local precinct with bail money and extra sweatpants.