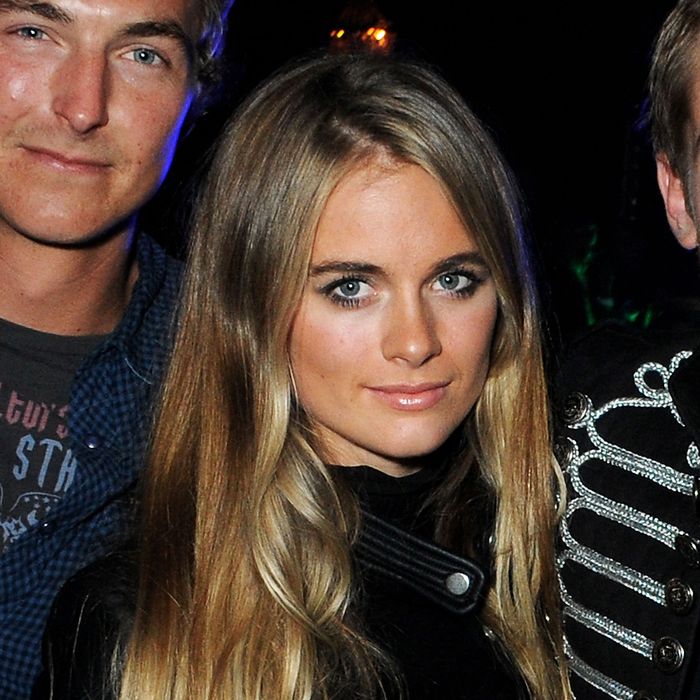 Photo: David M. Benett/Getty Images
The New York Times has just discovered Prince Harry's girlfriend Cressida Bonas and wants you to know. Bonas, the scrunchie-loving maybe future princess, has been a tabloid favorite for some time, which is why this Times article is a patchwork of things said and facts reported on in other news outlets with this newsy angle: She's going to be in the press a lot more now and the Times is all over it. Herewith, a summary of the reportage:
She is not engaged to Prince Harry. He might propose one day. But then again, he might not: "I wouldn't be expecting a Christmas engagement, but they are very much in love, really serious about each other and spending a lot of time together," a source said to the Times.

She doesn't have an official press nickname yet: Princess Diana was "Shy Di." Kate Middleton was "Waity Caity." Cressy is just Cressy (or Barbie, if you're Harry). The New York Times did not suggest one, but we're waiting with baited breath for the play on Bonas.
Tabloids and news outlets are interested in her: "There are lots of photographs of her in the press." 

Her personality is different from Kate Middleton's: Bonas is described as  "incredibly arty, creative, happy-go-lucky" and " … a party girl, but not wild or over the top."

Her personal style is also different from Kate Middleton's: Bonas is described as having "haute-bohemian" style. The Times notes her love of flower crowns and scrunchies, which are now cool again.
Her drink of choice: "Rum, straight up."
Her catchphrase: "Cringe de la cringe."
Well … no news is good news, as they say.