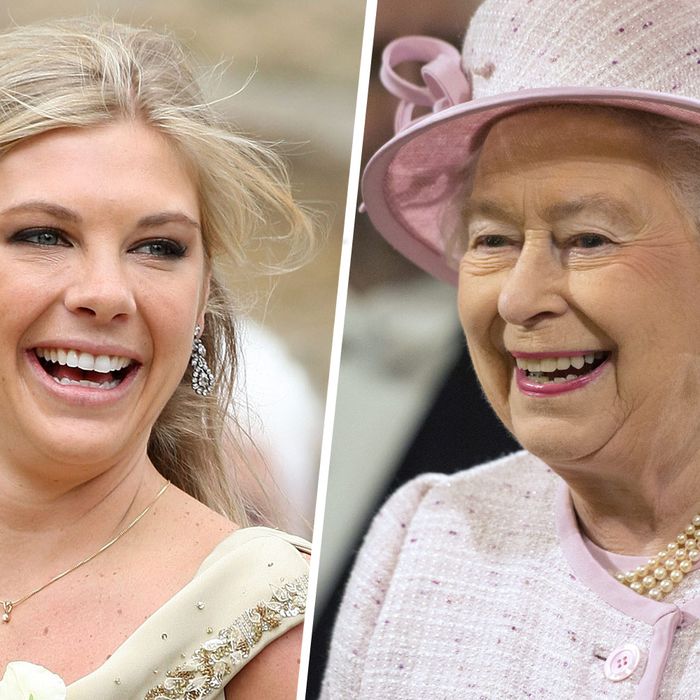 Photo: Danny E. Martindale/Getty Images; ARTHUR EDWARDS/AFP/Getty Images
A fantastic case of the ironies is happening over in England: Journalists who illegally acquired information are currently revealing this information as proof against themselves in trials about illegally learning this information. The former "Royals" editor from News of the World is having his e-mails read aloud, and some royal gossipy tidbits have emerged. Are you ready?
The editor in question, Clive Goodman, revealed an e-mail from 2005 describing conversations about Chelsy Davy, Prince Harry's then-girlfriend, and her texting patterns while her boyfriend was training at the Sandhurst Military Academy:
Family likes her well enough but they're worried that she's incredibly needy just at the time when Harry needs to be concentrating on himself. We've been having a very quiet look at this independently and it works in just over one month she's put in nearly 60 calls to his mobile. That's on top of texts, Harry can only field these after he's finished his training duties sometimes after 10pm.
INSANE, BREAKING NEWS: Couple in long-distance relationship attempting to contact one another. WILD TWIST: Girlfriend wants to speak to her boyfriend. 
But wait! Something about the queen.
Another e-mail revealed that the queen was "furious" that police officers ate some nuts that had been provided for guests before the wedding of Prince Charles and Camilla Parker-Bowles:
She has a very savoury tooth and staff leave out cashews, Bombay mix, almonds, etc. Prob is that police on patrol eat the lot. Queen is so narked she started marking the bowls to see when the levels dipped. Memo now gone around to all Palace cops telling them to keep their sticky fingers out.
SHOCKING NEWS OF THE WORLD: Woman is territorial about her snacks, in her home.
If you were on the subway, this would be a conversation unworthy of turning down your podcast to eavesdrop.