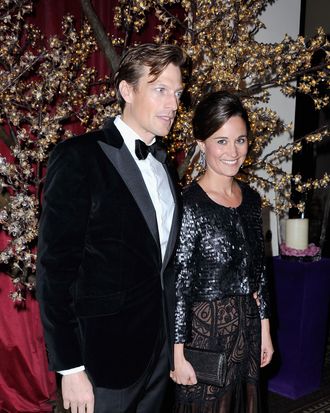 Photo: Gareth Cattermole/Getty Images
Pip pip, hooray for Pippa Middleton! Us Weekly reports that the Pimms-loving partier is allegedly engaged (The Daily Mail reports otherwise) to her boyfriend/long-rumored fiancé, now actual fiancé, Nico Jackson, following a trip to India. Middleton's previous boyfriends have included men with Downton Abbey-like lineage like Alexander Spencer-Churchill (a relative of Sir Winston Churchill), Alex Loudon (a famous British cricketeer — an athlete, not someone that cricket-races for a living), and George Percy (heir to the Duke of Northumberland).
Jackson, the British press reports, is a mere "commoner," who went to a public college. Also, he likes to wear high ankle socks, like your grandpa. Somehow, Middleton finds it in her heart to slum it with the self-made stockbroker millionaire, anyway. Rumors abound that Middleton wants a Highland wedding (which might mean hot men in kilts?!).  At least we already know what shade of white flatters her skin tone. No word on whether she will release a dubious book about wedding planning or make the duchess wear sea-foam green Alexander McQueen.