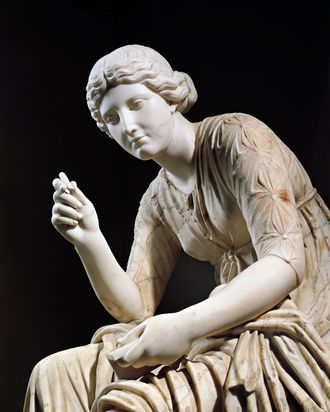 Photo: DEA / G. DAGLI ORTI/Getty Images
Photographer Lawrence Schwartzwald created a photo essay about the female starlets of the New York poetry world. These are writers who, as the New York Daily News puts it, "dare to pen lines about subjects like menstruation, orgasms and lady parts that their bros in prose are afraid to touch." But, you know, they also write useful things about being a person in the world, and they do it well.
One sample, from 29-year-old poet Alina Gregorian, goes:
I am not your nation's capital.

I am not fiscally responsible.

Nor am I delighted to meet you.

But I'd like to start flossing.
More enticing samples by these poets — like Monica McClure, Trishe Low, and Camille Rankine — accompany this portrait series. Also, some oddly languorous posing and one inflatable chair (hey, 1997!).