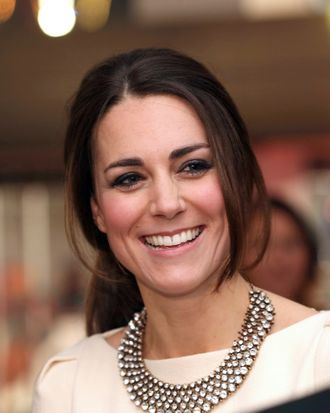 Photo: Chris Jackson/AFP/Getty Images
Nick Lord, a 25-year-old painter known for his racy painting of pregnant Kate Middleton in an animal-print bra, was just granted highly prized wall space at the National Portrait Gallery. Lord has a background in graffiti and an eye for some fantastical celebrity imagery. But now, his work will hang alongside the stately and stuffy paintings of yore. 
Lord won the Sky Arts Portrait Artist of the Year last night, though not for his fan-fic-esque portrait of Middleton — for an oil painting of Iraq War veteran and Victoria Cross winner Lane Corporal Johnson Beharry. Lord says he's now working on a painting of Hilary Mantel, the Booker Prize—winning author of Wolf Hall, who's also shared a controversial view of Kate Middleton. A debauched artist and an outspoken novelist: The horrors!