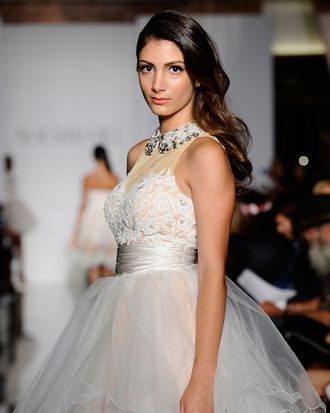 Photo: Fernanda Calfat/Getty Images
Spangly, sparkly, special-night dress company Sherri Hill is fanatical about stopping fakes. In 2012, it sued and won $5 million in a default judgement against counterfeiters, and it has a whole "Authenticity" section on its site with registration codes and an inquiry form. But the prom purveyor is not only concerned about intellectual property issues here, it says. It's also trying to protect promgoers and beauty pageanters from looking fat.
Dusty Hill, the company's president and the designer's son, alleges that fake Sherri Hill dresses add pounds to the female frame:
The worst-case scenario [for us] is that a girl receives the dress and thinks it's really a Sherri Hill dress. We looked at this sample and put it on a mannequin … It would make the girl look very heavy.
In particular, Sherri Hill is attacking the Manhattan-based company Merle Dress, which has a strong online sales platform and social media popularity.
Though it makes fairy tale dresses with huge jewels and uncanny My Pretty Pony hues, Sherri Hill maintains an unsentimental organizational system for its dresses. Each piece is listed not by a dreamy name, but by a number. For example, Style 1403 sold out after Selena Gomez performed in it. Style 11049 makes you look like Cinderella with a motorcycle-riding boyfriend. Style 3878 is suggested as a lovely halter option for Homecoming. Sherri Hill is serious about its digits. And all this flounce is not crafted from unicorn weaves and fairy tears. These tuffeted layers don't grow on trees. They cost hundreds of dollars, often edging into four figures. And that's the amount you pay to look trim and thin and still be wearing what appears to be all of the costumes from your high school's production of The Wizard of Oz.