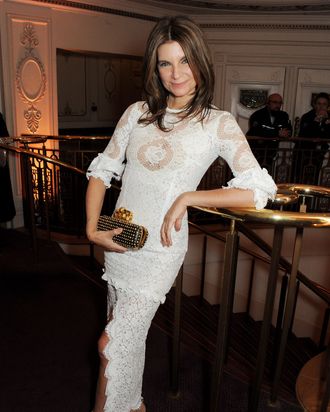 Photo: David M. Benett/Getty Images
In a Times feature detailing the Net-a-Porter brand's plans for expansion, the company's founder is revealed to be calm and unruffled, despite delays in the launch of the print magazine, Porter, and rumors that the shopping site is for sale. Perhaps it's because she sees ghosts! While some successful business types might credit their confidence to more substantial stuff, the Times says Natalie Massenet's zen is more "supernatural":
"My father always had people around the house who were famous psychics," Ms. Massenet said, "and people were always crossing rooms to tell me things" — among them, she said, that her purpose in life was to be a leader.
How lucky to have that whole life-purpose thing figured out at an early age. The Times also explains that while Massenet might inspire a kiss-the-ring type of attitude in the industry, she doesn't base what designers she features on Net-a-Porter off of friendships or loyalty, she chooses clothing simply because it's good: "'We don't necessarily drop designers,' Ms. Massenet said with diplomacy. 'We will pass on a season. If the collections aren't good, then we don't put them on the site.'"
And while Massenet shrugs off the Times's claim that she's Anna Wintour's next competitor, she's already won the admiration of one of Anna's BFFs: "Kanye, who I don't know, was in the hotel this morning, and I walked by trying to be discreet, give him and Kim some space, and they stopped me," Ms. Massenet said with wonderment. "They're like, 'We want to take an Instagram picture of your shoes.' And I was like, 'I know where you can get those.'" Kardashian Kollection for Net-a-Porter, anyone?