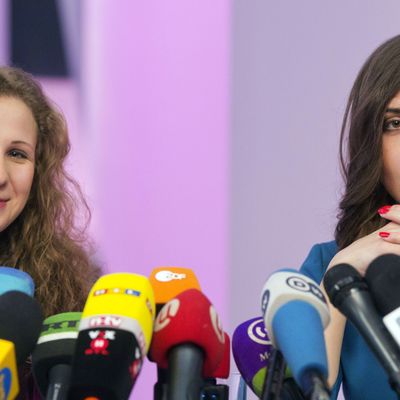 The two released but unrepentant members of Pussy Riot said in a press conference today that the Russian punk-protest band is breaking up.
"We are not Pussy Riot now," Nadya Tolokonnikova said.
"We can promote our cause without playing any shows," Maria Alyokhina added. "And we will never play any shows for money."
Tolokonnikova and Alyokhina will continue to work together, forming a crowd-funded prisoners' rights organization with activist Alexsei Navalny on the board, according to the Hollywood Reporter. The women were serving two-year sentences (in horrifying conditions) for their anti-Putin performance in a Moscow cathedral but were released this week under a new amnesty bill, which they have dismissed as a pre-Olympics PR campaign.
Tolokonnikova and Alyokhina will limit their artistic activities to inmates because Russia's prisons are so bad that they require a "cultural revolution," they said, and probably because when you call yourself a band you're stuck doing interviews like this one with opposition "It" girl Ksenia Sobchak. Sobchak asked if Tolokonnikova, as the prettiest Pussy Riot member, was the Beyoncé of the group, bound to go solo, and, if so, was that sexist? Eye-roll gifs aplenty at Buzzfeed.