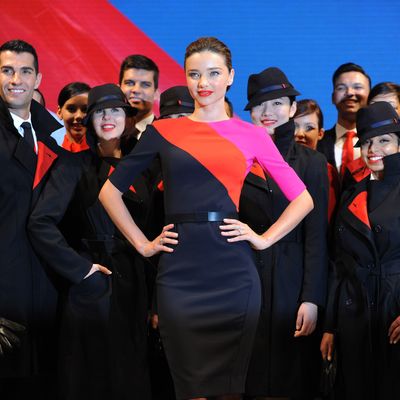 Photo: W.Teodoro/Zeduce/Robert Wallace/www.splashnews.com
Australian airline Qantas has debuted a new uniform for its employees, updating the old black dress with a form-fitting black number with pink and orange color blocking and a jaunty black trench coat to match. To celebrate the occasion, the airline brought in Miranda Kerr to show off the Martin Grant design, as if to say, Ladies, put on this new uniform and you'll look like me! Right? Wrong.
Qantas, maybe using a Victoria's Secret model to show off a uniform that's meant to be worn by working women is just the wrong way to go? "The uniform looks fantastic on Miranda Kerr but unfortunately we don't all look like her," a Qantas employee told the Daily Mail. The uniforms are really tight and they are simply not practical for the very physical job we have to do," said another. Though looking sexy is probably their chief concern when they have to maneuver a huge drink cart down a tiny aisle, these employees say they would prefer to wear the old, non-binding uniforms instead of trying to look like a supermodel while they work. Good instinct.

Well, deal with it, employees: You'll wear your fun, new sexy dresses and like it. Qantas has already ordered 12,000 of the new uniforms that nobody wants to wear — oh, and also announced plans to cut 1,000 jobs to save the company money.