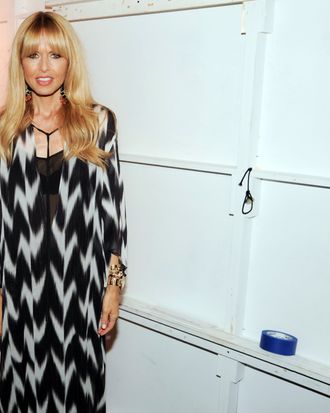 Photo: Billy Farrell/BFAnyc.com/BFA NYC
Yesterday, designer and bananas celebrity stylist Rachel Zoe gave birth to her second son. While it feels like almost everyone in Hollywood is pregnant right now, the 42-year-old remained mum about her news until September — about six months into her pregnancy — when she confirmed she'd jumped on the baby bandwagon. She announced the news via Twitter yesterday, revealing that he's healthy, beautiful, and weighs seven pounds, twelve ounces, but not giving any hints about the all-important name. Though she and Rodge stayed pretty mainstream with their first baby's name, Skyler, we're still hoping for something maj this time around. Unfortunately, Bear has already been taken.
Update: Zoe has shared the name of her new son and a shot of herself in full makeup (and faux lashes?!?!) holding the little guy on the Zoe Report. The name [drum roll]: "Kaius Jagger Berman, aka 'Kai'." We have some guesses at where Jagger comes from, but Zoe hasn't explained the origin of "Kai," so we can only assume she chose it because it rhymes with "I die" or because she's a closet Twihard since, as the Cut's beauty editor Kathleen pointed out, Caius, spelled with a C is one of the Vulturi in the Twilight series. Either way, big congrats to the happy family and happy hibernating!