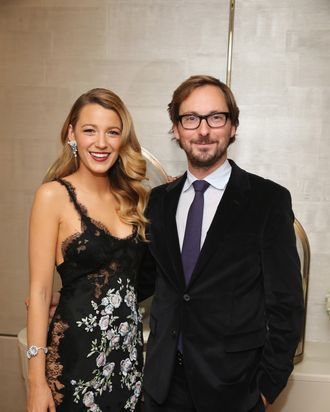 Photo: Neilson Barnard/Getty Images
To celebrate the opening of Van Cleef & Arpels's newly redesigned townhouse earlier this week, the team behind the jewelry brand decided to surprise guests like Blake Lively, Dita Von Teese, and Genevieve Jones with more than just the usual cocktail hour. Though they looked like regular guests, dancers from Benjamin Millepied's L.A. Dance Project were scattered throughout the crowd and performed a site-specific work by Millepied's former New York City Ballet colleague, up-and-coming choreographer Justin Peck.
"There's a very strong connection between the house and the world of ballet," Nicolas Bos, Van Cleef's global CEO and creative director, told the Cut. It was at the New York store in 1967 that George Balanchine was inspired to create one of his most iconic works, "Jewels." Millepied, who performed "Jewels" with the New York City Ballet, already had a relationship with Van Cleef, collaborating with the house on a present-day analogue to "Jewels" for the L.A. Dance Project. "We very much feel it's a French jewelry house with a true American history," Bos said, "and Benjamin is a French dancer with a real American career." Bos is also a big fan of Millepied's upcoming move to the Paris Opera Ballet: "To have someone with that energy and a bit of the American mindset — I must say, that he could move things around and shake things up a bit, that could be helpful in an institution like the opera."
Millepied brought in and advised Peck, who created a new piece for this occasion. Moving the dancers around the newly reconfigured store was a challenge for Peck, who had never worked on such a site-specific, unusual project. "It's sort of disorienting for me; there's not really a proscenium front," he said, referring to the framed stage he's used to at venues like Lincoln Center. "It's more about presenting to a whole 360 degrees. But the space itself is really cool — it has this beautiful spiral staircase" — a new, sculptural element made of brass and walnut — "and warm lighting, and a wraparound mezzanine, so people could watch from there as well." He was especially inspired by the new geometric details of the space — a nod, by design firm Jouin Manku Studio, to Art Deco architecture.
For dancers, there was another perk to the job besides surprising Blake Lively with pirouettes: Rehearsals meant invading the Van Cleef space — which Peck says, "feels sort of like a labyrinth; it has a very specific glow to it" — after closing time. "At the dress rehearsal, there was still construction going on — workers laying cement and stuff," Peck said with a laugh. "The dancers were doing the piece, literally weaving through construction workers, who were so confused as to what was going on. Like, Are we supposed to move? But the dancers are such pros — they're very adaptable."