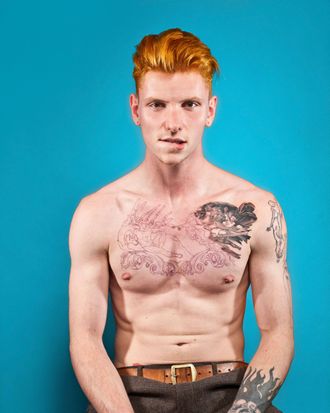 Julianne Moore, Jessica Chastain, Christina Hendricks: There is no shortage of red-haired women in pop culture. But redheaded men other than Damian Lewis? Different story.
That's the belief of Thomas Knights, a British photographer whose latest show in London, Red Hot, focuses on asserting the beauty of the red-haired male. He argues that popular culture depicts redheaded men as the butt of the joke, and until that changes, redheaded kids will continue to be bullied in the playground. What ginger men need, he believes, is to be re-branded as the sexy alpha men they really are. That's where the show comes in, a collection of 64 photographs of handsome, red-haired men whose sexual confidence practically radiates from every image.
For Knights, whose photographs have appeared in Vogue Italia and Dazed and Confused, this is not just a show but a calling — he's working with the UK's Anti Bullying Alliance and has an emotional investment in the work: he spent his childhood desperately wishing away his red hair. Next year, the show will travel around the world (including time in New York and Los Angeles), and Knights will photograph handsome gingers he meets along the way. He plans to publish a coffee table book: The Red Hot 100, featuring 100 flame-haired, beautiful men.
For now, Knights sells plenty of merchandise for ginger men and those who love them: a Red Hot Christmas card, a tank top, and two calendars – one featuring straightforward portraits, the other a little sexier (don't give it to your grandmother, advises Knights). The Cut spoke to Knights about his project, Prince Harry, and how, in the fashion world, red-haired men are now considered "exotic and almost taboo."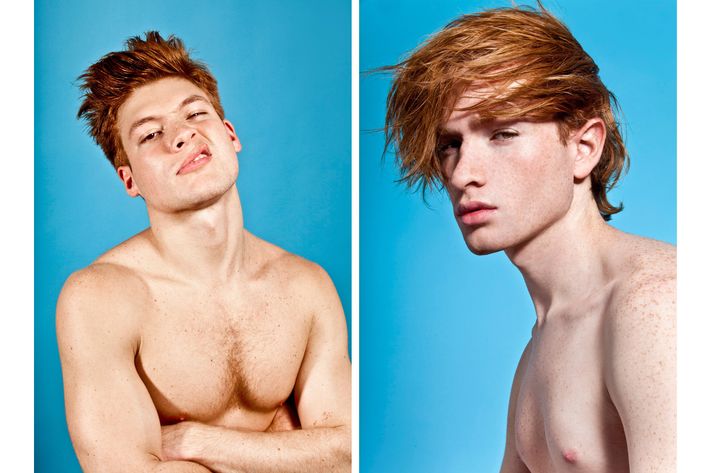 Why do you object to the way red-haired men are portrayed?
In the film world, undesirable characters are often enhanced by them casting a ginger actor. It's a narrative that's so played out that people don't even question it – they just consider ginger men to be unattractive. One model told me that somebody came up to him in a club and told him, "You're quite good-looking for a ginger." Challenge someone to think of a male Hollywood star with red hair, and after they've mentioned Damian Lewis, they can't come up with a second example. Outside of Hollywood, there's Prince Harry – he's definitely helping the cause. He's naughty, mischievous, good-looking and sexy; he's a prince, and he gets naked a lot. He's a brilliant role model for dispelling this stereotype of the ginger man as an undesirable. 
How did you cast the models for the project?
I started on this two years ago, and at that stage, most agencies didn't have any ginger men at all – there was no demand for them. Many of my models came from recommendations, street casting, and Facebook. Today, more agencies have ginger boys. In fashion, everything has its moment – right now, red-haired men are considered exotic and almost taboo. The fashion world and gay men have no trouble seeing gingers as hot – it's those outside the industry and the straight women who need to be persuaded.
What's the thinking behind the styling of the images?
I wanted them to be very clean, very clear shots. The blue background makes the color pop, and [the men are] topless so that the hair is the focus. There's no fashion, no T-shirts, no hair styling other than what the models came in with – it's really boyish, undone hair. I wanted the images to feel very genuine.
What do you hope to achieve?
I'd like to see a big TV or film drama with a ginger heartthrob, and more positive role models. I hear Damian Lewis might be the next James Bond – that would be great.
Someone recently asked me, "What's so special about red hair?" Well, nothing. It's not special – it's just equal. All I want is for ginger men to be on a level playing field. I don't think red hair should be fetishised, but the only way to attract attention to the idea has been to use ridiculously hot men – that's why my photographs have gone viral. Eventually, I hope it will be a broader project. Ginger men don't have to be hot to be okay.
Red Hot is showing at London's The Gallery in Redchurch Street from December 16 to 22.