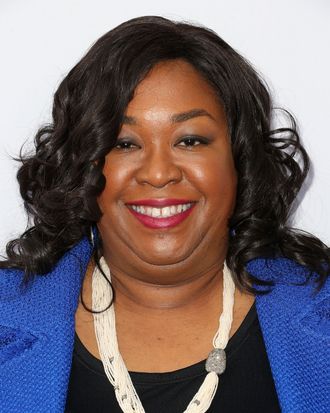 Photo: Frederick M. Brown/Getty Images
Lupita Nyong'o was the only black actress to receive a Golden Globe nod for her work in a movie this year, prompting USA Today to ask: Where are all the black women in Hollywood?
Mostly competing for a small number of roles in slavery dramas or black ensemble comedies, it turns out. "When I would come just to audition, all in the same room, auditioning for the same role — that scared me to death!" Greys Anatomy star Chandra Wilson told the paper. "I kind of stayed away from Hollywood because of that. Because the quantity isn't high, we're all out there fighting for the same few roles."
One solution is similar to Geena Davis's two-step cure for sexism: Be open to changing a character's presumed race. It worked for Scandal and Grey's Anatomy showrunner Shonda Rhimes. "When I cast the pilot of Grey's, Shonda didn't give anybody a last name," Rhimes's casting director Linda Lowy said. "She just said, 'Linda, I want you to cast it the way you see the world.'" The second, and maybe more important step, is to put more black women in charge. On Grey's, Rhimes helped Wilson (whose character was originally written for a white actress) rack up some directing credits, so she can more easily get behind the camera, and run America's next big race-blind show.