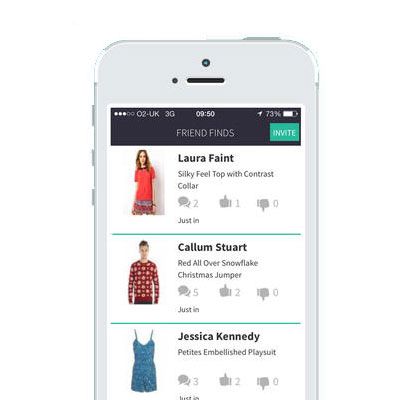 Mallzee is a personal shopping app that works a bit like Tinder; it involves side-swiping for items based on approval (right) or rejection (left). But the application's most fascinating function is its social component. Once you pick an item to buy, your friends can vote thumbs-up or thumbs-down on your selected purchase.
But unlike actually shopping with your friends, you can't just ignore them when you've fallen in love with a foolish-looking sundress that's too big in the armpit region. If the majority of your Mallzee friends spurn your choice, the application disables the purchasing button. Mallzee decided that the collective opinion of friends is worth more than the initial love that drew you to make the rare right-thumb movement.
Enjoy having clothes selected by a friend council, Mallzee users. If everyone you know weighs in on your wardrobe, you're only going to be left with jeans, a pair of ballet flats, and a navy blue pea-coat or something. And don't expect a whole committee of people to enable your love of obnoxious prints on tights. Sometimes you gotta break away from that pack, you know?