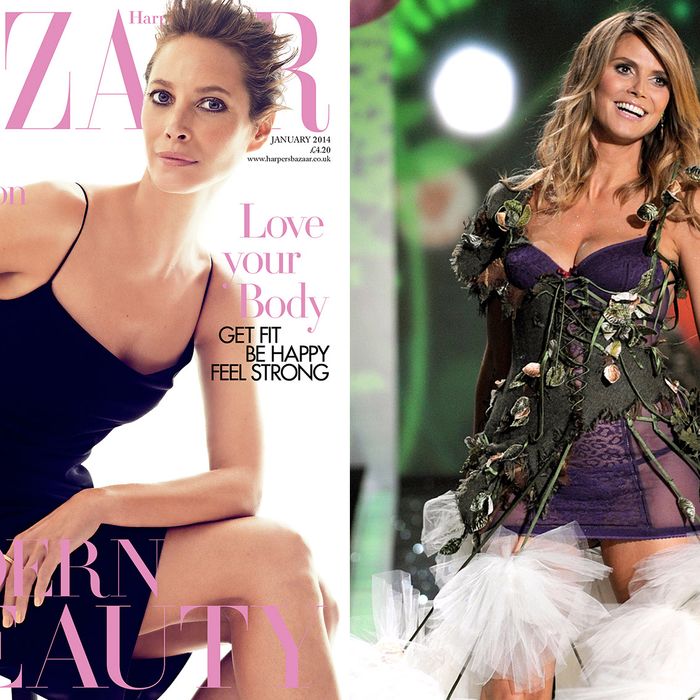 Photo: Courtesy of Harper's Bazaar; TIMOTHY A. CLARY/AFP/Getty Images
The Telegraph reported yesterday that Heidi Klum has no plans to walk in another Victoria Secret's fashion show, now that she is turning 40. "I wouldn't model with my underwear down the runway anymore, I think that would feel, you know, a little uncomfortable maybe." This came just after fellow supermodel Christy Turlington told Harper's Bazaar UK about deciding to pose for Calvin Klein underwear at the age of 44.
Klum was not making her statement as a response to Turlington, yet I can't help linking them — and I found myself wondering about the logic behind their choices. Is it a cop-out or a power move for a model of Klum's stature to decide she doesn't want to take off her clothes? And is it refreshing (real bodies!) or exhausting (high standards!) for Turlington to keep taking off hers?
Turlington told Bazaar, "At first, I thought, 'Underwear?' I don't really want to do that at this point. But then I thought that it's actually good for people to see images of women, not just young girls – proper women who have diverse lives and demands. I feel good about the fact that I feel fit and healthy and I haven't manipulated myself in any way." Meanwhile, it's hard to imagine that Klum — a mother of four who often posts naked shots of her beautiful, svelte self on Instagram — feels shy about her body. Yet she hasn't walked in a show since 2009.
But conditions are important when it comes to near-nudity. While neither Klum nor Turlington has surgically enhanced her body (that we know of), there's a big difference between walking nearly naked on TV for an audience of millions and being photographed for a magazine that will later "fix" any really egregious "flaws." Who would blame Klum for begging off of that responsibility? It's wonderful that genetically blessed Christy Turlington feels fit and healthy, and in theory, it's nice to see older faces and bodies represented on the runway as well as in the pages of magazines. Except that seeing Christy Turlington at 44 inspires in me about the same reaction that seeing her at 20 did: Wow, that's unattainable. It might even make me feel worse than seeing a younger woman, with whom I might not bother to compare myself. Of course, Christy Turlington isn't obliged to make me feel good about my body. But when I think about how reworked all images in magazines are, I don't know that I buy her rationale.
So, what to do? First, we should stop pretending that anything in a fashion magazine or an Instagram feed represents reality. Regardless of what we wish were true, for the time being, unretouched images of 40-year-old women are not used to sell underwear — no matter the appeal of marketing "proper women" with "diverse lives."