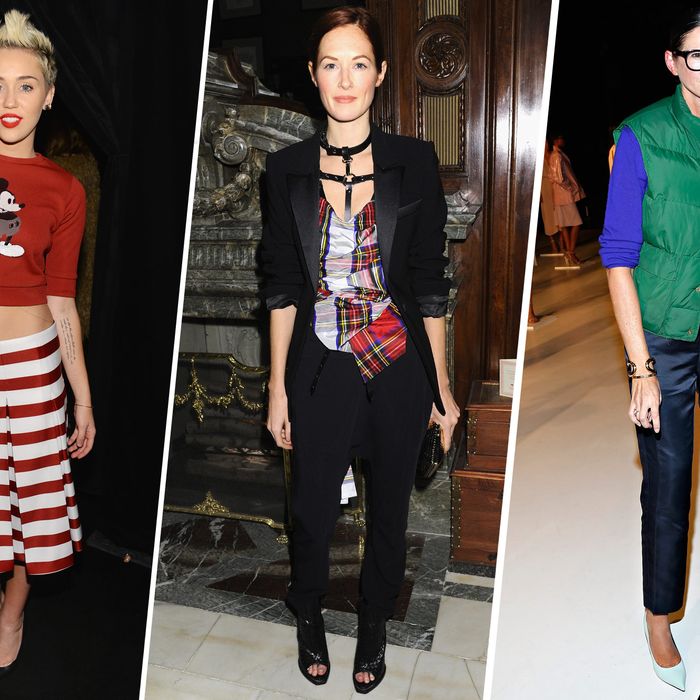 Photo: Jamie McCarthy/Getty Images; Jennifer Graylock/Getty Images; Cindy Ord/Getty Images
This past weekend, Guy Trebay devoted a good amount of space in the New York Times to his wrap-up essay on the most interesting influences in fashion this year. It turns out they aren't coming from the runways, he says, but rather from the "value-neutral" space of the Internet, where style is free from a "contextual matrix," and we're allowed to mix high, low, and whatever with total abandon and a sense of nonchalant humor. He used Macklemore's overhyped, tragically lame song "Thrift Shop" as a way into this running theme. "We live in a thrift shop culture, compelled by daily, hourly and constantly refreshed trips to the Goodwill outlet that is the web … we repurpose, we mash up, we grab things off the sale rack and try it on for size,"  he writes.
By "value-neutral," it seems he means that the variety of voices in the conversation makes for a diverse fashion message. The article credits the Internet with inspiring us to wear a pastiche of trends and cultural in-jokes. We're shifting away from capital-F Fashion, toward a way of dressing that is about the curated self. It's acceptable and preferable to mix Chanel with a pair of thrifted Levi's; it's done with a wink, a nod, and a smirk. Like Miley Cyrus, Trebay says, who is wearing her Marc Jacobs Mickey Mouse T-shirt with Manolo Blahniks all the way to the bank.
But is this a new idea? Haven't we been living in a style grab-bag since Anna Wintour shot her first cover of Vogue featuring Lacroix with jeans? The most enviably stylish woman in the room has never really been the one dripping in labels — she's the woman wearing a mash-up of items that indicates some creativity and an understanding of the larger world. It's the reason people like Jenna Lyons, Taylor Tomasi Hill, and other familiar street-style faces have made such a mark, and street style blogs and photographers have been an inspiration to designers, buyers, and shoppers alike, for many years now.
Trebay's piece is saved, however, when he name-checks Givenchy for failing to credit the street influences it took last season — mainly from the highly coveted, category-bending street brand Hood by Air. It's no longer acceptable to reference street-culture without credit, or to pretend things are designed in a vacuum. Labels like HBA and Virgil Abloh freely cite their unlikely inspirations (Martha Stewart), and more established brands like Rick Owens, Louis Vuitton, and Saint Laurent are "sending admirers a secret message" with collections that clearly show their appreciation of street culture. They're learning from the conversation, and aren't afraid to say so. Now, if only Macklemore could say the same.