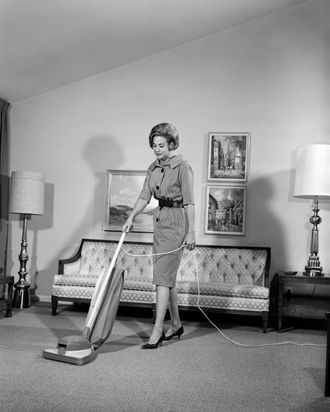 In other news of moms and food: A study published in the Mayo Clinic Proceedings yesterday set out to examine how many calories it took to be a mother. It compared contemporary mothers to a control sample of mothers — the Ideal Mothers of History — mothers from 1965. Because these 1965 mommies were so good, so hardworking, and so motherly in all their motherly tasks, they were allocated an extra snack. And mothers of today, because they do less housework and watch more TV, were docked 200 calories per day: NO JUICE AND COOKIE FOR YOU.
The study split moms into two categories: mothers of younger kids (below 6) and mothers of older kids (6 to 18). Mothers of young children now do two fewer hours of physical activity a day, from 44 hours a week down to fewer than 30. Mothers of older kids do 11 fewer hours a week, down to 21 hours in 2010.
But what counts as physical activity, you might wonder. The study defines physical activity as housework, meal prep, meal clean-up, child-care, laundry, and exercise for pleasure. Now women spend more time driving, watching TV, and doing the Internet.
If only they were more … domestic. Don't these mothers know they would be allowed a few more treats for their hard work?