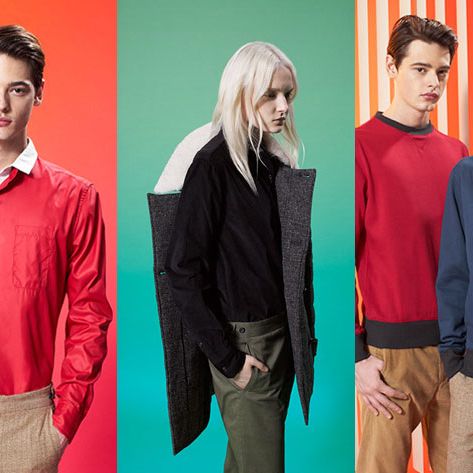 Photo: Phillipe Jarirgeon/Opening Ceremony
What is the wardrobe of a man of the future who falls in love with a sultry-voiced computer operating system? Judging from the wardrobe in Spike Jonze's upcoming film, Her, it will be monochromatic, color-blocked, and captivatingly nerdy. And now, the director has collaborated with Opening Ceremony for a capsule collection to make sure we can all dress like hipsters from the future who favor pleats. 
Costume designer Casey Storm tells the New York Times that "the idea was to create a world that looks a lot like the world we live in but just different enough to tell you that you are not 100 percent in the present."
Storm ditched the normal tropes of the future — no Jetson-style dresses or neoprene jumpsuits — and instead dressed mustachioed technophile Theodore Twombly (Joaquin Phoenix) in a slightly disorienting version of Gap clothing you'd buy at a thrift store — natural inspiration for a pricey Opening Ceremony collection.
Starting December 18, Opening Ceremony is selling its interpretation of the Her wardrobe, essentially, hipster gear of the new millennium that's like Star Trek meets a Wes Anderson film. Think: double-layered, slightly shrunken button-downs, color-blocked sweatsuits, shearling coats, and unisex (but not sexy) high-waist trousers in an off-kilter palette of pastels, muted nudes, beige, and olive greens.
Sound similar to what you're already seeing in Williamsburg? Opening Ceremony's Carol Lim and Humberto Leon added a few forward-thinking details to properly situate us in a later time — every pocket is designed to fit an iPhone or a tablet, and everyone in this tomorrow-world will wear unsexy, flat-front, high-waist pants.