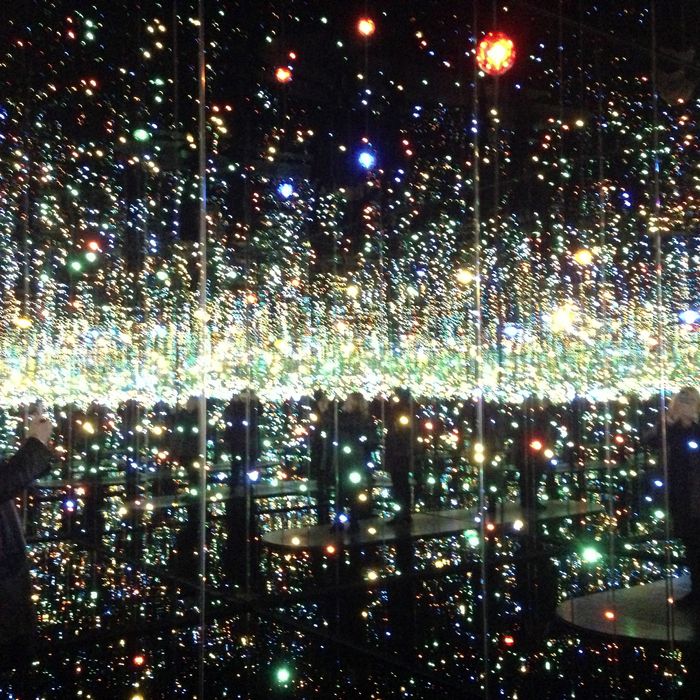 Get ready to change your stale Chicago Bean profile picture, delete that Hall of Mirrors shot, and hide your surreptitious selfie from the James Turrell Guggenheim exhibit this past summer. There's a new artsy selfie in town, and you're going to have to wait three to six hours to take it.
According to Town & Country, crowds are gathering to gaze upon themselves gazing in a mirror-lined room lit with LED bulbs at the David Zwirner Gallery in Chelsea. Each person is only allowed 45 seconds in the room, so you have to snap fast.
The Instagram hashtags (#DavidZwirner, #DavidZwirnerGallery, and #DavidZwirnerSelfie) are blowing up, reports Town & Country. The magazine even spoke to people waiting in line, and one girl, brandishing her selfies, said, "It's so worth it! The proof is in the picture. You can't say you've been there and did it if you don't have the picture."
The room is part of Yayoi Kusama's multi-part exhibition, I Who Have Arrived in Heaven, and is called "Infinity Mirrored Room - The Souls of Millions of Light Years Away." Its mirrors create the illusion of an infinitude of reflections, which makes for a perfect selfie, because your narcissism can just go on and on and on and on and on.