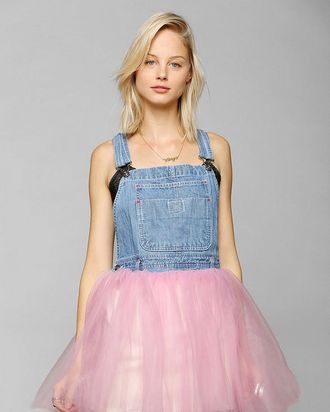 Urban Outfitters is no stranger to angering the masses. But even while eliciting the ire of the Attorney General of the Navajo Nation by selling the "Navajo Hipster Panty" last year, or continuous accusations of the company's habit of ripping off indie designers, it seemed that Wall Street types were still kind of okay with the company.
But now Urban may have finally crossed the line by selling a denim jumper-cum-tutu in its stores. According to a research note sent by Goldman Sachs, this particular dress was met with "incremental concern" that the company might be "too aggressive and fashion forward" when it comes to the product, QZ reports.
It indicates that the company, which has reportedly been struggling with profits, might be out of touch with the fashions, or at least in the eyes of Wall Street. So when it comes to stock valuation, bring on the racially offensive apparel —  but no way will Goldman Sachs analysts tolerate a dress from the Clarissa Explains It All collection.