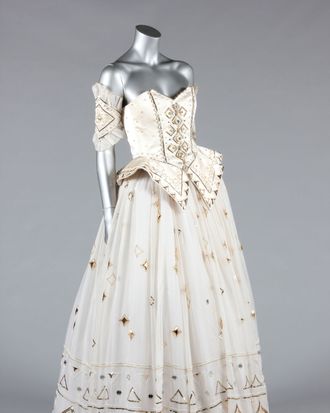 Photo: Splash/KerryTaylorAuctions.com/Corbis
A gown belonging to Princess Diana just sold at a South London auction for $140,000. Known as the Diaghilev dress, this outfit is not only used, it's very used: Diana "recycled" it for several occasions. But an unknown museum has purchased the garment, regardless of its wear and tear. ABC even reports "a few moth holes here and there" amid the glittering crystals, pearl beads, sequins, and rhinestones.
Diana selected the dress from designers David and Elizabeth Emanuel's Diaghilev collection, and it reportedly fit her perfectly (though she frequently ditched the flouncy headband and optional arm-warmer doodads). ABC reports that Kerry Taylor, a specialist fashion auctioneer who's sold eleven of Diana's dresses this year, warns that other women shouldn't attempt to wear it — it wouldn't work on just any commoner.
The dress suited her perfectly. Not many women could carry this dress off.