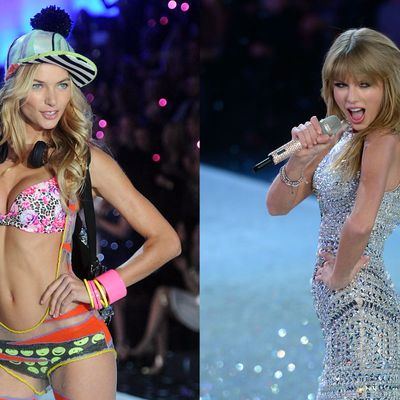 Following Taylor Swift's performance at the Victoria's Secret Fashion Show, WWD asked model and Angel Jessica Hart if Taylor Swift could ever cut it as a lingerie-clad VS Angel. She replied: "No, I think you know what, God Bless her heart. I think she's great. But I don't know, to me, she didn't fit. I don't know if I should say that."
She added that Swift was lacking the "experience and confidence and knowing how to be confident with yourself. I think it comes with age." Essentially a nice way of saying that Swift has all the sex appeal of a green bean.

Yeah, she really shouldn't have said that, because you know who else doesn't really fit the Victoria's Secret Angel mold? Jessica Hart. The New York Post reports that VS execs are so "furious" over her Taylor dis that they fired Hart. She won't be featured in the brand's upcoming catalogue or be used in next year's fashion show. (A Victoria's Secret rep declined our request for comment.) Somewhere, right now, Swift is burning her Jessica Hart voodoo doll and sending Team Swiftie T-shirts to all the boys in the corner office. Hart obviously hasn't learned the rules of the Taylor Swift Universe (similar to the rules of horror movies). Rule No. 1: Mean girls and ex-boyfriends do not survive unscathed.