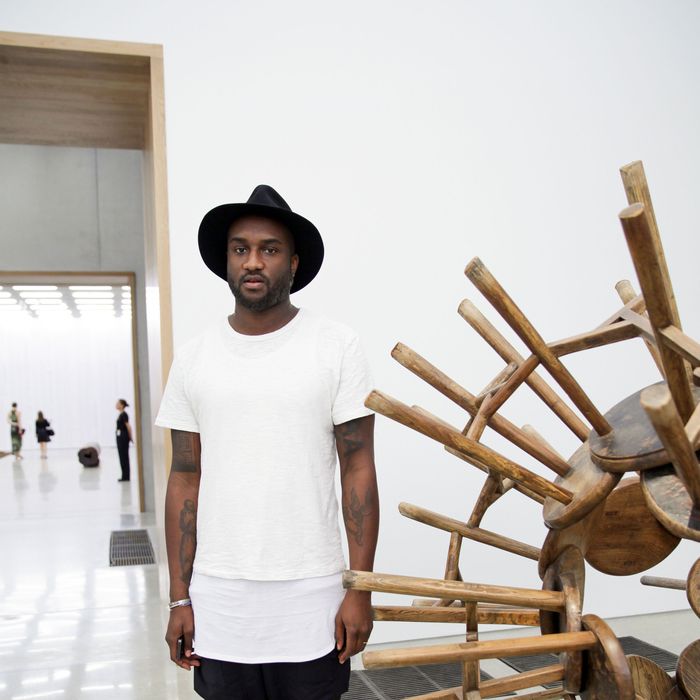 Photo: Angela Pham/BFAnyc.com/BFA NYC
Virgil Abloh, the creative muscle behind Kanye West's Donda, shares his collaborators' penchant for lofty goals. For his first solo clothing collection, called Off-White, the designer tells Style.com that he hopes to infuse his streetwear line with a Martha Stewart twist — sadly, not the DIY-glitter-and-macramé Stewart, but the shabby, nautical version.
"I have this deep infatuation with Montauk and Martha Stewart and Nantucket. My parents are from Ghana, and I grew up in Chicago, but for some reason, this lifestyle, shabby chic — it's grown [on me] since I got older," he said.
With the collection, which consists of jeans and chinos in unbleached canvas, A-line flannels, and perforated mesh shorts, Abloh hopes to bring the relaxed, washed-out, worn-in side of fashion to streetwear, which generally covets the brand-new, right-out-of-the-box vibe. The only shoe in the collection is an espadrille. "Outside of the sneaker conversation, I think, is much more interesting," he said. "No one in the hood is wearing espadrilles." Well, not for long, anyway.