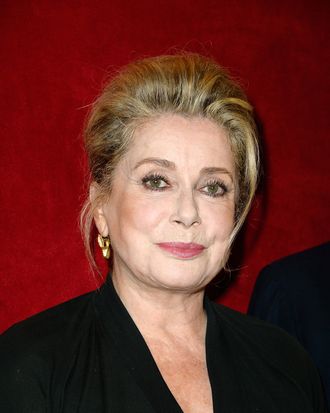 Photo: Pascal Le Segretain/Getty Images
The French superiority industry has declared its latest victory — this time, over aging. Along with raising well-behaved children and getting laid, French women are simply better at getting old gracefully, says Mireille Guiliano, author of French Women Don't Get Fat. Mature French women "seek a more natural look and feel" than their American counterparts, Guiliano told WWD, citing Catherine Deneuve as a role model. Although, Guiliano admitted: "OK, perhaps a few partake in a little Botox and look to what they eat and wear before the surgeon's scalpel."
Guiliano's new book, French Women Don't Get Facelifts, reveals national anti-aging secrets such as moisturizer, cardigans, and oysters. But really, you just have to live in France, where you will get hit on into your fifties, eliminating the insecurities that might have driven you to the plastic surgeon. She says:
"The difference is the U.S. is a 'youth' culture, France is not. Literally, here you are old after 30 and not in France. There is still respect for women in their 50s," she says. "I feel young in Paris for the obvious reasons. Men still look at women my age and try to flirt, have humor, low-key, but seduction nevertheless. And what woman is not sensitive to it?"
Or you could ask a Japanese woman. Apparently they don't get old or fat, either.