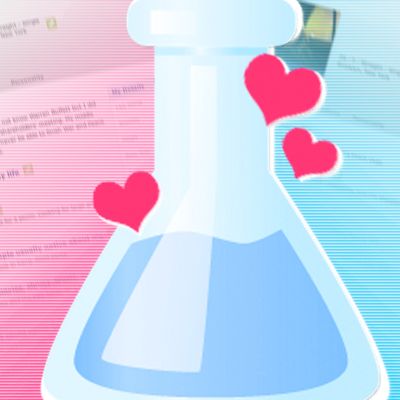 In Brooklyn, New York, there is a bar called Sharlene's. At Sharlene's, a Jameson-and-soda costs $7, and I was on my second of the night when a friend, Derek, told me that if I listed Sleeping Beauty among my favorite movies on OkCupid, I would attract creeps and weirdos.
He went on. For instance, to list Gilmore Girls among my favorite TV shows was fine, but I should balance it with something more aggressive, like The Sopranos. My favorite foods should include something savory, not just "pie" and "jam." And I should definitely not describe what I did on a "typical Friday night."
We ordered another round. Less than a week later, I disabled my account.
OkCupid had been frustrating: Disgusting men sent winky-face messages, perfect ones ignored me, and the men I did manage to go out with seemed inevitably to disappoint. It wrecked my self-esteem. I was tormented. Could I possibly be so unappealing? Or was I simply doing this wrong?
I sought outside counsel. While my female friends were sympathetic to my feelings of confusion, my male friends — including Derek — tended to be less so. They advised me to just relax; my female friends helped me to strategize. Which was the correct path? And so I devised an experiment. What if, I thought, I just let them do it for me?  My male and female friends could each write a profile on my behalf,  presenting me in what they regarded as my best light. I would use both profiles and see which got better dates. I liked this idea.
The Experiment
A bit on my friends: I chose Derek and his former roommate, Michael, as my male writers. They are both trusted confidants, and they have in common an impressive knowledge of rap music and an intense appreciation for teen soap operas of the U.K. and Canada. From my female friends, I chose Bess, whom I met through a college friend, and Lauren, whom I met through Bess. Both  are smart and attractive young women who appreciate good novels, bad movies, and clothing they can't afford, so naturally, we all get along. All four are in their mid-to-late-twenties, live in Brooklyn, and are either actively dating now or have been in the recent past.
Herewith, the profiles they submitted.
From the men:
My self-summary:

I once got drunk at a party and fell out of a beach chair.

What I'm doing with my life:

I'm a editor at an established "tech" magazine, and I'm sharpening my knives.

I'm really good at:

Verbal sparring about things that actually matter; baking shit.

The first things people usually notice about me:

My glasses, wit, and ability to hold my liquor.

Favorite books, movies, shows, music, and food:

-All Fitzgerald Everything

-A Woody Allen/Michael Bay double feature 

-Gilmore Girls, Mad Men (Ginsberg scenes in particular), and Sports Night.

-Sondheim, Taylor Swift, Odd Future

-Cold cucumbers in scallion sauce, popcorn

The six things I could never do without:

1. My family and friends.

2. Well-designed furniture.

3. A gigantic bag.

4. Softball.

5. A Brooks Brothers Oxford shirt

6. The latest snooty lit journal.

I spend a lot of time thinking about:

Pie and whiskey.

On a typically Friday night I am:

[leave this blank]

The most private thing I'm willing to admit:

I'm from the Midwest.

You should message me if:

…your spelling and grammar are impeccable.
Of their submission, Michael wrote: "You may think we're taking the piss, but we're in this to win it."
From the women:
My self-summary:

Omaha via Boston now in BK. I do not know Warren Buffett but I did once go to a Berkshire Hathaway shareholders' meeting. My middle name does not start with a P. I'll never be able to finish War and Peace if I don't get a good reading chair. 

What I'm doing with my life:

Editing. Writing.

I'm really good at:

Picking the right sandwiches for a picnic. Cooking for large groups. Listening.

The first things people usually notice about me:

Glasses. Quiet charm. Book in hand. Good pants.

Favorite books, movies, shows, music, and food:

Tender Is the Night, Annie Hall, The Way We Were, Gilmore Girls, The Sopranos, The Wire, Sex and the City, bacon on a stick, turkey leg, Juliana's, pie

The six things I could never do without:

Tomatoes, wine, my very large bag, family, friends, sweat

I spend a lot of time thinking about:

how to wear a man's sweater.

On a typical Friday night I am:

[leave this blank] 

The most private thing I'm willing to admit:

I went to Harvard

You should message me if:

[leave this blank]
Of their submission, Bess said: "Ahahaha."
Between the two, there are some clear differences. My male friends, for example, present me as much more gregarious, while for my female friends I'm quieter and more thoughtful. Although neither had me describe what I do on a Friday night, my male friends would have you think I was at the center of a party; my female friends would put me at a poetry reading. Neither profile is completely accurate, but I had to admit that each was more or less true. This realization was both strange and lovely.
Apart from the essay questions, I built the profiles myself, including basic information (height, occupation, pet preference, etc.) and the "match questions" OkCupid uses to determine the two users' compatibility. (Things like, "In a certain light, wouldn't nuclear war be exciting?" and "How do you feel about falling in love?") A few logistical concessions had to be made, as well: For instance, while it would have been a better experiment to release both profiles at the same time, I ran the risk of appearing twice to the same user, so that was out. And though using the same photo for both would have allowed me to control for physical attraction, from a practical standpoint it just didn't make sense.
The idea was to put up the profiles my friends had written for me but otherwise behave as I normally would. The experiment was not to be someone else, after all. The experiment was to help me be me. My male friends' profile went up first.
The Dates
Things got off to a rocky start. The first person to contact me used the word raw in his screen name, told me that my profile was "a bit different than most, meaning actually interesting ;-)," and declared in his profile that "it feels pretty damn good being inside this body!" The next one told me about a "very recent weekend" when he'd gotten drunk and fallen off a bar stool at a ramen restaurant. I had a conversation with one guy who was looking for "casual fun" ("Of what sort?" "the kind you have when 2 people are horny") and another who turned out to be from my hometown.
Finally, I found someone promising. Barry worked in television, operating cameras for the Real Housewives of various locations; seemed athletic and funny; had decent taste in books; and appeared to be as ambivalent about OkCupid as I was.
When I got to the bar where we'd planned to meet, he was already there, waiting on a bench outside: plaid shirt, shorter than I'd been expecting, and a nervous smile. We ordered drinks and chatted about his work, about what the Housewives are really like, about what he'd rather be doing. I told him that I'd once wanted to be a Broadway star, and he encouraged me to go back to it, so strenuously that I had to object. He ordered a second drink (although it was a Sunday, he explained that he was scheduled to work Tuesday through Saturday, so this was still his weekend) but I declined. He got slightly drunk. As things progressed, I became bored and dejected. At the end of the night, I waved at him and went home.
Hoping for better, I put up my female friends' profile several days later. Within hours, I had messages from several non-awful-seeming men. This was a stark contrast to my experience with my male friends, and I was pleasantly surprised. One message was from an improv comic who rambled charmingly and told me I was "easy on the eyes" — this, I thought, would be my mark, and I responded to set up a date.
As luck or fate would have it, I was wrong. Improv Comic took too long to return my message, and suddenly eager to get things over and done with, I messaged a number of other people later that day, including a software engineer from Oklahoma who liked Nick Drake and Richard Feynman and got back me a few hours later saying that he was  free tomorrow.
I met Brandon at the same bar, a mere three days after my first date. As with Barry, we ordered a round and started chatting. This time, however, we both ordered a second drink. And then a third, and since the drinks were strong, I'm a little hazy on where the conversation led. We discussed Oklahoma and Omaha (where I'm from), J.D. Salinger, functional programming, and talked quite a bit about pie. He was driven, very smart, very attractive, and tall. I liked him. I can't quite remember how it happened, but at a certain point in the evening I was forced to choose between lying to him about why I was on OkCupid and telling him the truth about my experiment. I chose the latter. Thankfully, it didn't bother him: We're still dating, a little over three months later. So far, so good.
The Lesson
As for the purpose of the experiment, it would seem that the women were the winners in a landslide, but on second thought I'm not so sure. Protected by their profile, which was not quite my own, I felt free to take risks. I was invulnerable, and therefore emboldened. No man could hurt me, therefore all men were available to me. And while it's true that things are working out with Brandon, it's no question that I got lucky: As it happens, Brandon was nearing the end of a summer of disappointing dates and was close to deleting his own profile, which put him in an emboldened mood, as well.
Many of my expectations going into this experiment were either disproved or called seriously into question — that my male friends, being male, would know better what men want; that similar taste in TV shows was a reliable measure of compatibility; that caution and deliberation would be rewarded. There is one thing I learned definitively, however: One must relax. If that requires getting your friends to write your profile for you, do it, but go for the ones who know you best, whether they're male or female. Be a little bit bold when it comes to the people you go out with and a little bit cautious when it comes to expectations you have for them. Take your dates to Sharlene's and order a Jameson-and-soda, and if they don't work out, wave at them and go in peace.
For what it's worth, I showed Brandon my male friends' profile, and he says he would have gone out with me anyway. I haven't showed him my real profile, though — if I can even call it that, at this point. I thought about it and decided it doesn't matter.