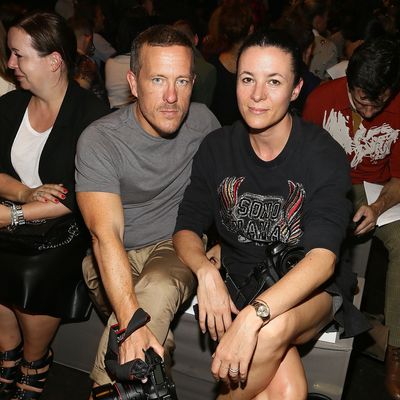 Photo: Astrid Stawiarz/Getty Images
This past fall, Oscar de la Renta expressed frustration with Fashion Week's "megashows," which are full of "20 million people with zero connection to the clothes." In response, he announced a plan to cut his invite list to a maximum of 350 carefully selected invitees. Now Catherine Bennett, senior vice president and managing director for IMG, says the company that runs Mercedes-Benz Fashion Week will make similar changes to its shows next season. She tells the Wall Street Journal that Fashion Week "was becoming a zoo. What used to be a platform for established designers to debut their collections to select media and buyers has developed into a cluttered, often cost-prohibitive and exhausting period for our industry to effectively do business."
In many ways, that's true. WSJ reports that IMG will introduce two redesigned venues at the tents at Lincoln Center in February, one of which will be more industrial in feel, and the other more "intimate." Changes will be made to make VIP guests more comfortable and to allow more space for backstage interviews. Two new venues off-site will also open, one of which will be called the Hudson Hub and will be geared towards up-and-coming designers.

The new venues are designed, the Journal reports, to address complaints from designers and fashion's old guard over the messy spectacle that Fashion Week has become, with the new venues aimed to "control and reduce audience capacities." As one IMG spokesperson put it: "making invitations once again an exclusive pass for true fashion insiders."

IMG says it hopes to eliminate those attendees with only a "tenuous connection to the fashion industry," because Lincoln Center "has been swarmed with fashion bloggers, street-style photographers and fashion fans … in addition to the hundreds of journalists and scores of celebrities."
It's hard not to wonder if under all these claims to improve efficiency there lurks a good, old-fashioned desire to return to exclusivity by getting rid of the modern day riffraff: all of these "fashion bloggers" and press deemed less important.

Many of the most intimate shows now happen in downtown studios, galleries, and warehouses that allow for the exclusivity often missing from the spectacle of Lincoln Center. Surely these changes are in response to that movement – but it also seems less like a function of the spaces and more about the scale of the corporations and designers showing there. And while rent breaks are nice for emerging designers (IMG says its new spaces will be about $2,000-$3,000 cheaper) it's still pretty expensive ($15,000 for the Hub), so that seems like a straw-man argument.

These proposed changes, which will reportedly be announced on Thursday, raise some important questions about what fashion shows have become. Are bloggers needed anymore now that nearly the entire front row of influential print editors use Instagram? Do major critics even need to go to shows to give their opinions? (See: Cathy Horyn's review of YSL's fall 2013 RTW collection that was done entirely from a computer.) Who does matter at a fashion show? If you're in the eighth row, is it even worth attending?

Fashion has always given us a tidy way to quantify social hierarchies. With fewer bloggers at shows, at last, all kinds of confusion caused by opinionated upstarts can be put to rest. Who hasn't heard a print fashion editor grumble that some know-nothing newbie is front row when they've toiled for years to get to the third? Regardless, it will certainly be interesting to see who the fashion world overlords deem "essential" and "of value" — and who will simply choose to assert her own value by watching from her computer.