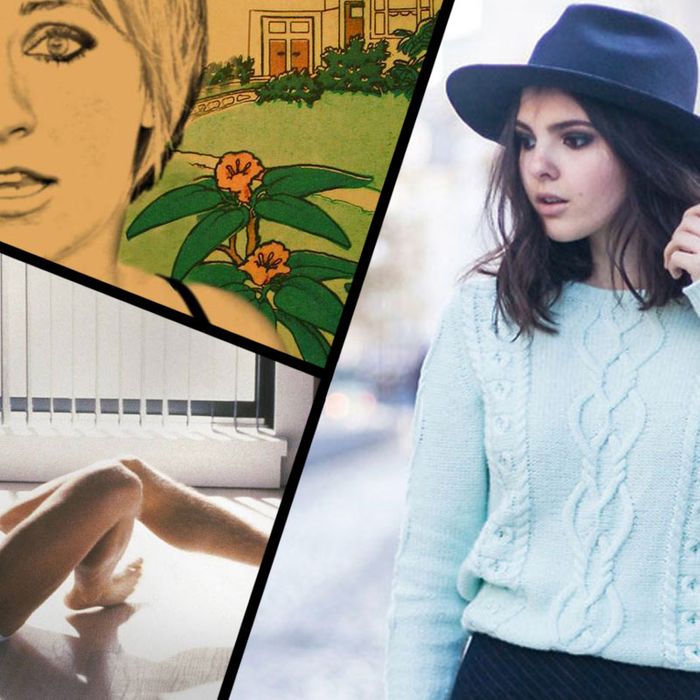 This week's pursuit of woman-relevant topics led Cut writers to question tiger moms and to try London menswear on for size.
 1. Is backdoor DTR a strange new sexual activity? No, it's just a tricky dating maneuver. Maureen O'Connor explains how to surprise the person you're casually seeing with a brand-new, tacitly monogamous relationship.
 2. Which of the pre-fall collections will appeal to a chic introvert? Which to a Studio 54 disco diva?  Read Veronica Gledhill's pre-fall update and learn.
3. What would you do if you were Jennifer Weiner? Would you laugh all the way to the bank and then build a glamorous and aggressively feminine writer's retreat near Brandywine? Or would you take the literary elite to task for ignoring your work? Kat Stoeffel addresses Jennifer Weiner's position as a feminist gadfly.
4. What does lavender smell like to a would-be Patrick Bateman? "Like a field in The Sound of Music? I don't know. It smells fancy, but not girly." This is from one of the five Wall Street primpers interviewed by Kathleen Hou on their grooming habits.
5. From which country should you mooch your parenting trends? Any country to which you have no ties whatsoever. At least a dozen funny moments in Jessica Grose's essay about American mothers borrowing from other cultures.
6. Who just chose between their longtime artistic collaborator and Miley Cyrus? Just Marc Jacobs, ditching Juergen Teller for Miley's "entire being, her energy, her talent, her intelligence, everything." Her campaign for the designer is two parts mood, three parts brood.
7. What happened to street style amid the polar vortex? Leah Rodriguez is seeing a lot of winter skirts this week.
8. What nonsense is the Tiger Mom growling about these days? Lisa Miller questions the return of Amy Chua's ethnic essentialism.
9. What's going on in men's fashion? Hattie Crisell reports seeing velvet sneakers from Tom Ford and artsy romance at Burberry. Veronica Gledhill has spotted some menswear that looks totally woman-friendly.
10. Who can we emulate this week? Ann Friedman admires Jenna Lyons for combining authority and likability.
11. What are Judy Blume and Lena Dunham reading these days? Dunham and Blume sat down and bookwormed themselves around a great conversation.