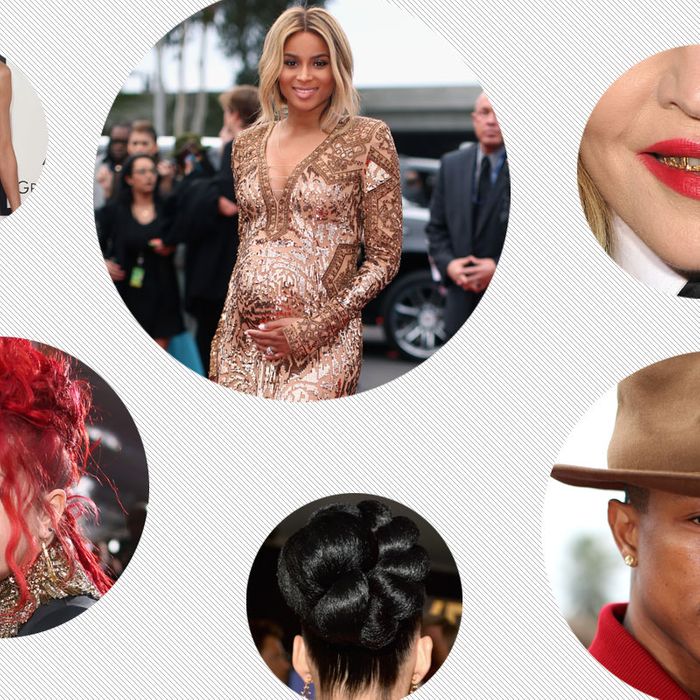 If the 2013 Grammys were about seeing how close you could come to violating the officially mandated boobs and butts ban,  2014 was the year of the really dumb hat. Madonna showed up in a three-piece suit, grillz, and wide-brimmed pimp hat, Willie Nelson wore an almost identical ensemble, as did Yoko Ono. But nothing shut down the red carpet quite like Pharrell Williams who, in a four-foot misshapen forest ranger's hat, was somewhere between Smokey Bear and the Arby's logo. From Madonna's grillin' moment to Jamie Foxx referring to his daughter as his "seed," behold, the most awkward moments on the Grammys red carpet: 
1. Ryan Seacrest, you should know by now: When you see something, say something. And yet, during his two-minute interview with Pharrell Williams, the forest-ranger hat went completely unacknowledged. If you have an Arby's sign on your head, at least maybe mention it?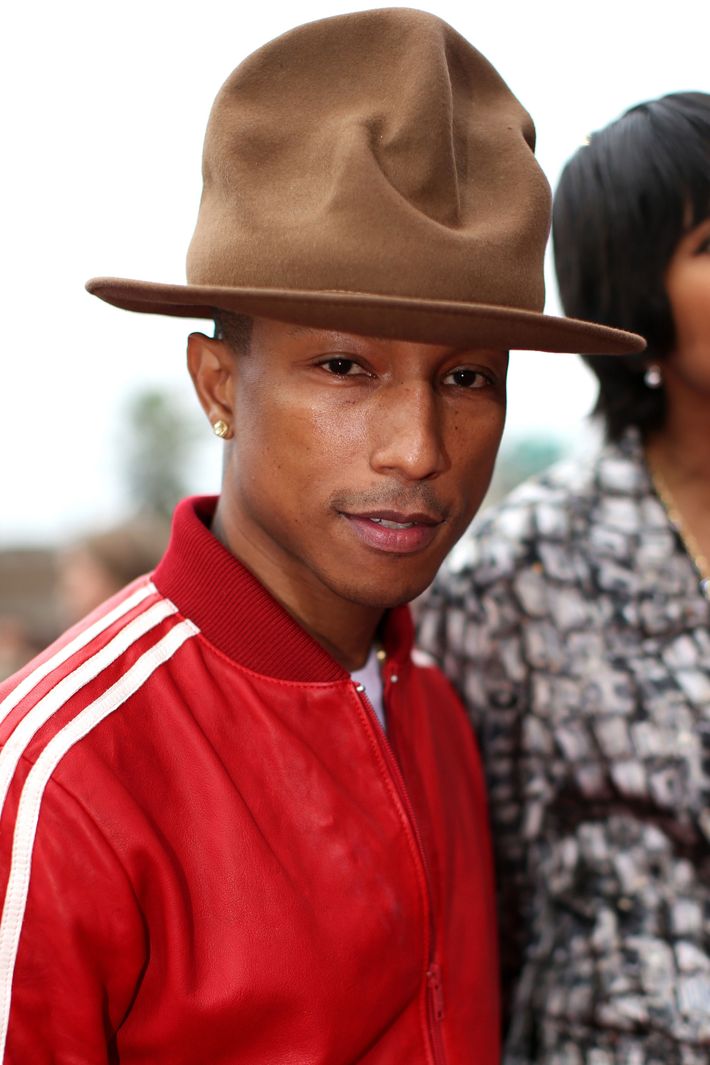 2. The height differences all over the carpet were distracting: Producers, if Kevin Hart is going to be interviewed on the red carpet, put him with fellow short person Ryan Seacrest rather than the seven-foot Giuliana Rancic. And, similarly, for God's sake, Taylor Swift should be nowhere near Seacrest when she is in heels – for both his ego, and for us, who had to listen to their mutual back-patting eat up air time. Shorts with shorts, talls with talls.
3. Ciara — whose baby bump eats Club Sandwiches and hangs out with Pucci's Peter Dundas in Milan — was the most beautiful pregnant woman we've seen on a red carpet anywhere, all season. Hands down.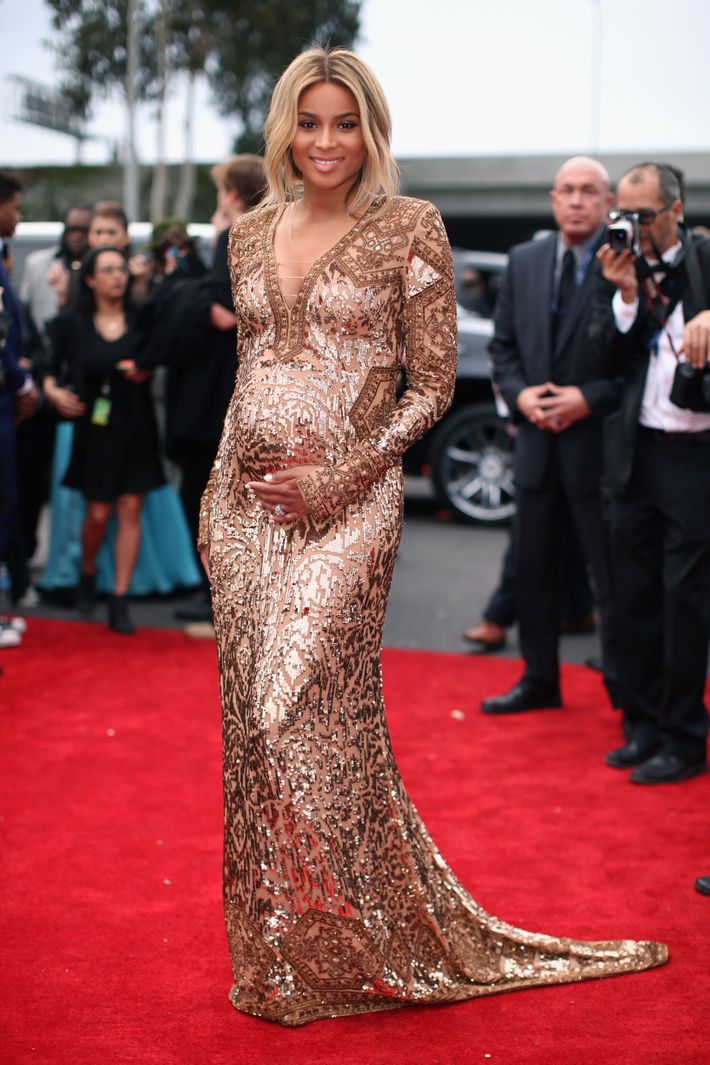 4. Katy Perry's bun: She may have looked lovely and feminine in her couture Valentino dress, but Katy Perry's hair-thing resembled Scylla, the six-headed monster from the Odyssey. Either that, or a really lovely neck pillow on a long flight.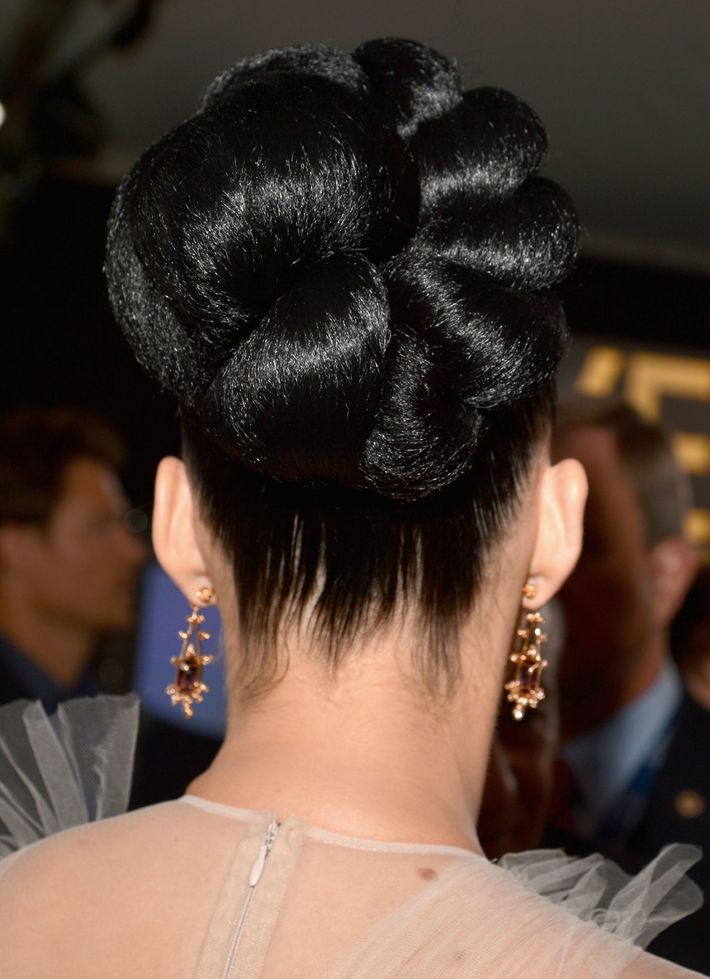 5. Giuliana Rancic, in her red flowery cutout dress, met Colbie Caillat, in an almost identical red, flowery cutout dress. And they said nothing. We just sat here, jaws on the floor, stunned that Giuliana didn't try to make "Hashtag twinsies!" happen.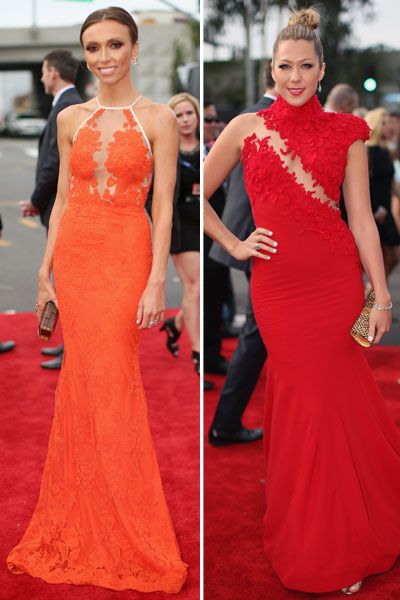 6. Madonna is, simply, "grillin'"— a verb that no longer applies to flipping your patties, but to an attitude of blasé nonchalance, when you are wearing a mouth full of diamonds, a pimp cane, sparkling gloves, a matching tuxedo to your 8-year-old son, and fielding annoying questions from a gnat called Ryan Seacrest. Just. plain. grillin'.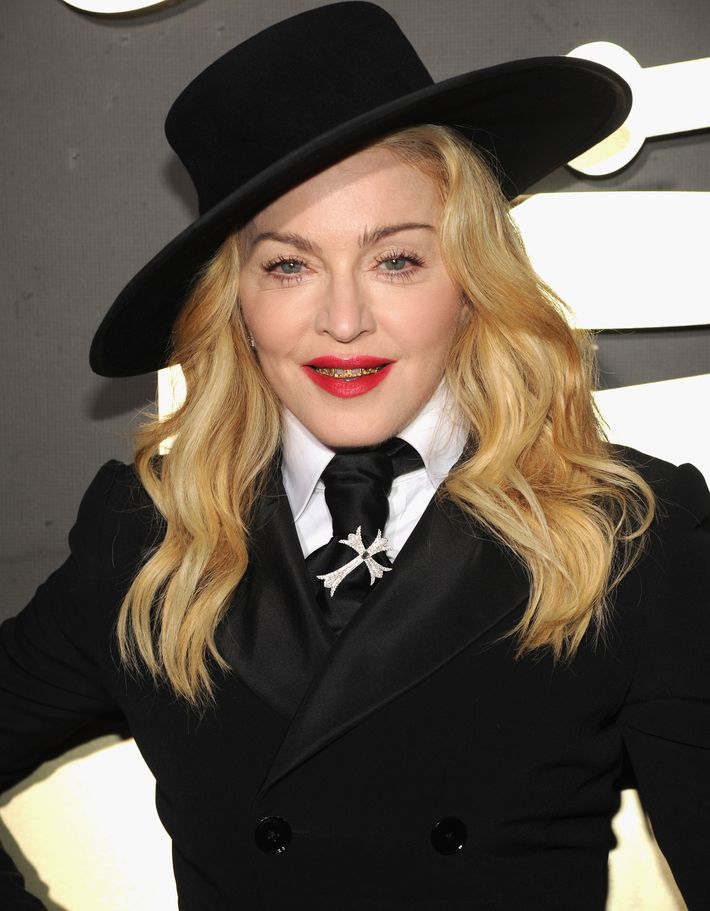 7. The Creepiest Way to Introduce Your Daughter: "This is my seed." Thank you, Jamie Foxx, for sprinkling your seed all over the Grammys.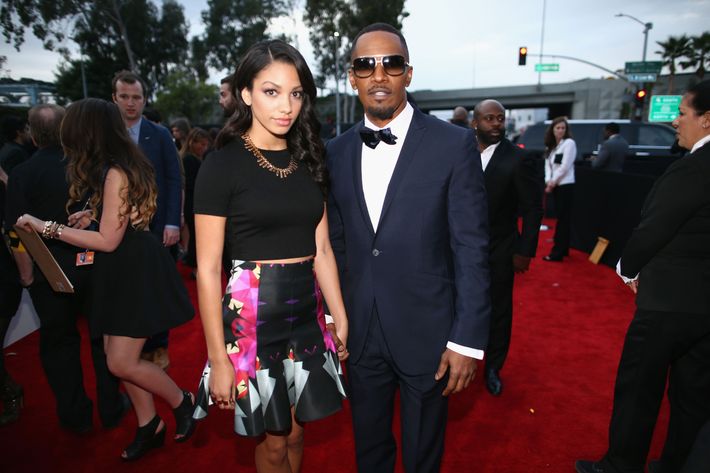 8. Robin Thicke was too busy helping Paula Patton paint on her appliqué lion heads to notice what he was wearing – and, when asked on the red carpet, didn't have the foggiest. So, groping around for a label in his jacket lapel, Thicke discovered he was wearing Armani. And maybe for the last time.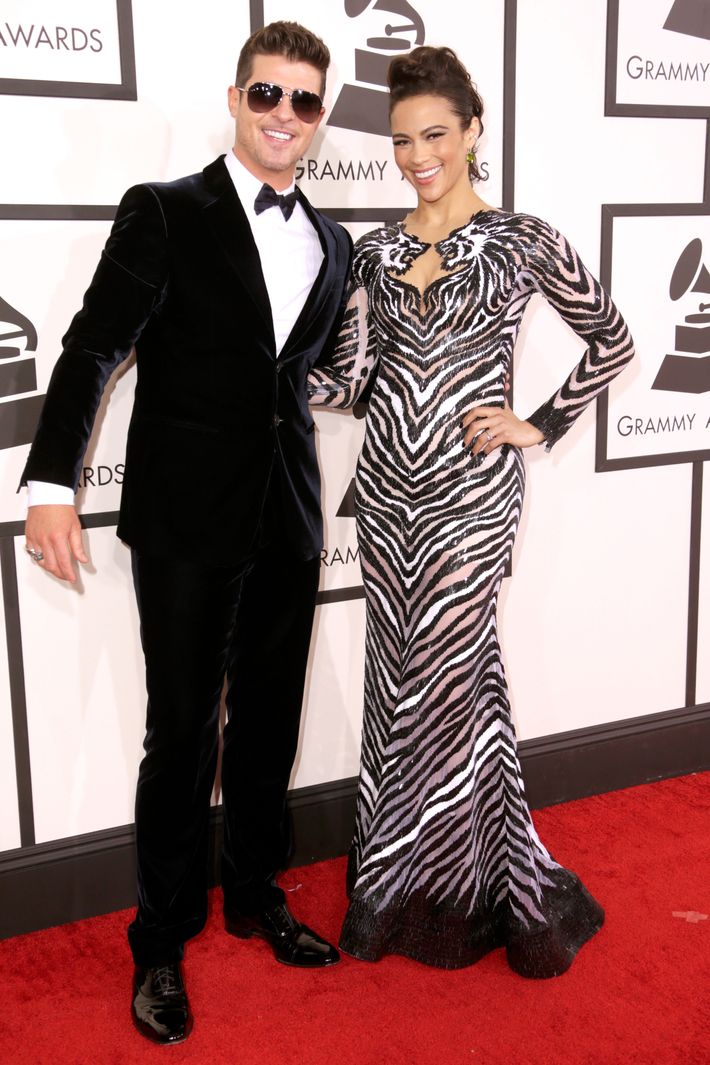 9. Lurking behind the froufy gown of Kacey Musgraves, the perfect curls of Ariana Grande, and the best-friend cheer of Taylor Swift, was the quiet, menacing, completely frightening Slipknot Clown.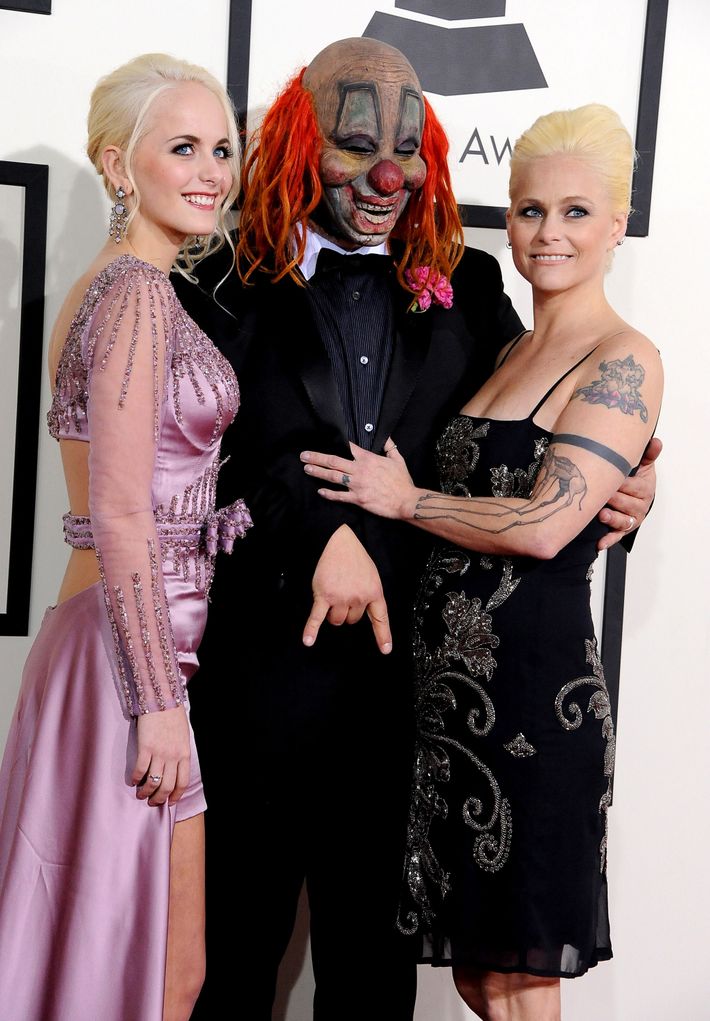 10. Dear, dear, Cyndi Lauper, with her single-breath ramble in a thick Bronx accent, quickly solidified herself Jacqueline Bisset of the Grammys.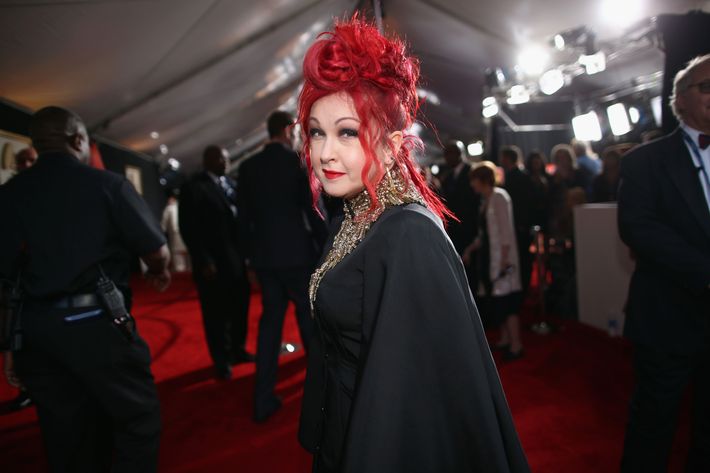 11. When Ozzy and Kelly Osbourne saw each other on the red carpet, they mumbled complete nonsense at each other for 30 seconds of air time, while Giuliana pretended to understand what was happening.
12. In what we hope was an act of solidarity, Madonna, Yoko Ono, and Willie Nelson banded together in black suits and pimpy top hats — an act of open defiance against E!'s Mani-cam and the Glam Clam 360.