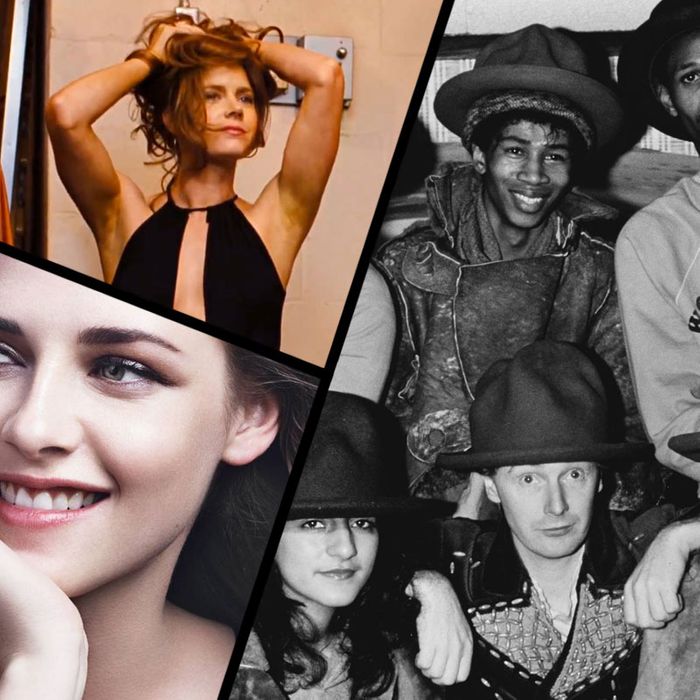 This week, the Cut's pursuit of female-centric topics led writers to research what happens to all the clothes ditched at the dry cleaner, sort through the latest K-Pop fashion, and over-think the #RichKids of Beverly Hills.
1. Why is there so much advice about how to start a relationship, but none on how to end one? Maureen O'Connor recommends a dating prenup. Most importantly, she suggests negotiating for the oversize T-shirt collection.
2. Who were those fascinating men with rainbow hair and spangly boleros at men's fashion week? Julianne Escobedo Shepherd gets the low-down on K-Pop style stars G-Dragon and Taeyang. It's a pageant of outerwear.
3. What happens to clothes left at the dry cleaner? Will Christian Bale just give them to you (as American Hustle implies)? Emilia Petrarca reports.
4. What's wrong with the way people talk about yoga now? Well, writes Erika Nicole Kendall, people are treating yoga like a cult of fashionable fitness rather than a culture with roots in humility, patience, and trust.
5. Do you need something to cheer you after you turned a Goop design tip into a disaster?  Watch this fantastic web series "Just the Tips"! It's the best.
6. What's life like when all you do is go to spin class and have hangovers? Oh, it's way existential. Here is a chronological analysis of the blog from a woman on the new E! show #RichKids of Beverly Hills.
7. Any recent upheavals in the fashion criticism world? The New York Times's fashion critic Cathy Horyn is retiring. Here's a collection of some of her best burns and battles.
8. What's up with the photographer Robert Capa? Feast your eyes on this colorful slideshow from an early champion of color in fashion magazines.
9. What happened at the Grammys? Oh, Pharrell wore a hat, there were a dozen awkward moments, and many a Grammy look.
10. What could you possibly learn in breathing classes? Actually, a handful of helpful things! Allison Davis convinces you that the weird little hippie in your soul will just love it.
11. What's the best of the style blogs this week? Leah Rodriguez has an eye out for roomy pants.
12. What's the GOP doing to win female voters? Ann Friedman writes that, for at least the past five years, the GOP is trying to put mothers in prominent view to little success.
13. What does Kristen Stewart have in her hair? Just a little bit of fuzz, reports Kathleen Hou, who interviewed Stewart about her all-or-minimal beauty vibe.
14. Any good celebrity listicles this week? Sure. Can we interest you in an incomplete list of where Hilaria Baldwin has done yoga? Or perhaps 60 bizarre things adored by Oprah? Great, so thrilled we could help you out with that.