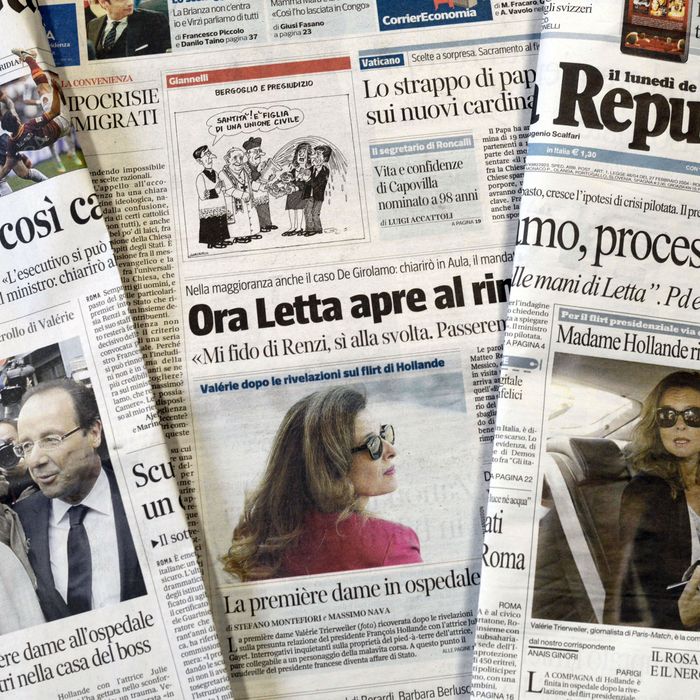 Photo: GABRIEL BOUYS/AFP/Getty Images
France's First Girlfriend, who checked herself into the hospital over the weekend for "a very strong emotional shock," is expected to spend more than a week there, the Guardian reports. Valerie Trierweiler's "severe case of the blues" comes after Closer magazine reported rumors that President Francois Hollande, with whom she lives in the Palace Elysée, is having an affair with actress Julie Gayet. Gayet, a left-wing activist who appeared in a video supporting Hollande's 2012 campaign, has two children and is separated from her Argentinian director husband. Hollande was photographed coming and going from Gayet's apartment (on scooter, no less) at a time when even the libertine French say he ought to be busy fixing the economy.
French media tend to be more respectful of politicians' private lives than their American counterparts, but this story is particularly irresistible, in part because the tryst isn't exactly out of character, as Trierweiler knows all too well. Hollande left his partner of 25 years, Ségolène Royal, for Trierweiler in 2007, after their own years-long affair. At the time it began, Trierweiler was a journalist covering the Socialist party and Hollande and Royal were its Bill and Hillary Clinton. Except, in their case, the female partner got to run for president first, reportedly causing resentment in the male partner, whose mistress conveniently doubled as a well-placed critic of his wife's ambitions.
But nor is a little grandiose anguish out of place chez Trierweiler, who once asked to be called the First Journalist of France, as opposed to First Lady. (The public chose another title: "First Bitch.") In 2012, Trierweiler famously tweeted her endorsement of Royal's opponent in a legislative race, angry that Hollande had thrown his support behind his ex-wife, who had done the same during Hollande's presidential campaign. (For the entire, incredible saga, I recommend Vanity Fair's 2012 feature.) Since then, Trierweiler's popularity and Hollande's approval ratings have plummeted.
And the repetitive cycle suggests that not even Gayet is safe. At 59, Hollande could have several more destructive love triangles in him. That is, unless Trierweiler bucks up and bands together with Royal and Gayet in order to teach Hollande a lesson, like Cameron Diaz, Leslie Mann, and Kate Upton in The Other Woman.